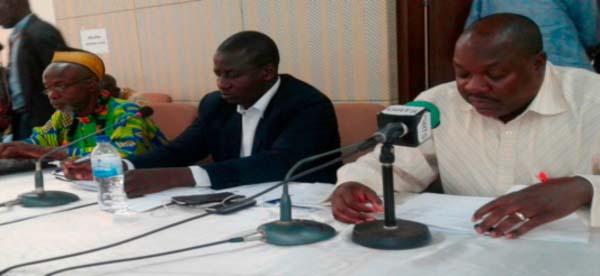 The joint session of the Public Accounts and Public Enterprises Committees (PAC/PEC) of the National Assembly yesterday scrutinized the annual activity report and financial statement of the National Youth Service Scheme (NYSS)
Presenting the report before deputies, the Executive Director, Landing B. Sanneh, said NYSS had been in existence since 1999, following the enactment of the NYSS Act in the same year.
In 2014, the institution emerged from almost two years without a substantive governance body and management, he said, adding that it affected the performance in delivering its mandate.
In the first quarter, he said, a substantive Executive Director was recruited which was followed by the appointment of the board of directors by the President towards the second quarter of 2014.
Notwithstanding, efforts were made to revitalise the institution which has almost collapsed, he stated, adding that with the new management, an organisational self-assessment was conducted and issues and recommendations from the assessment under the organisational development plan for 2014 refocused the institution into implementing its core activities of youth empowerment and development.
Mr Sanneh said that to ensure steady growth, transparency and accountability, it was necessary to put in place adequate systems that could raise the organisation's profile.
This assessment would reinforce their ability to strive for greater openness, and good governance in delivering their programmes, he added.
"We shall continue to strive for increased partnership with those with whom we share a vision and values for youth development and poverty reduction."
He said the mission was to empower the youth in all aspects for sustainable national development, by facilitating the maximum utilisation of available resources to ensure a sustainable socio-economically viable young population.
The Executive Director further told the committees that the implementation of NYSS activities requires human, material and financial resources, thus the need to train staff.
"An increase and untimely release of subvention and provision of office equipment is urgently in high demand for effective and efficient service delivery," he added.
The scheme needs additional vehicles to support operational activities, and currently there are only two vehicles with one over five years old.
To ensure greater efficiency and effectiveness, the Sapu and Nyaniberi farms need transport, in addition to the orientation and training camp in Bakau, Sanneh told deputies.
Read Other Articles In Article (Archive)