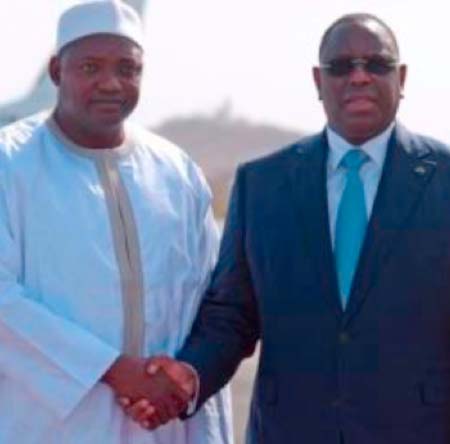 The governments of The Gambia and Senegal have committed themselves to raising the two countries bilateral relations to a strategic partnership, during President Adama Barrow's recent visit to Senegal.
In a joint communiqué endorsed by the foreign ministers of The Gambia and Senegal, Ousainou Darboe and Mankeur Ndiaye respectively, the two heads of state agreed to establish a presidential council, which would meet every six months, alternatively in The Gambia and Senegal.
The council to be jointly chaired by the two heads of state will examine all issues of bilateral interest and provide guidance to the two governments for deepening cooperation.
The Senegalo-Gambian Permanent Committee, co-chaired by the Vice President of The Gambia and the Prime Minister of Senegal, will be responsible for monitoring the execution of the decisions of the Presidential Council.
According the communiqué, the two leaders also expressed their resolve to expedite the completion of the Trans-Gambia Bridge project, Adjoined Border Control Posts and the establishment of the Senegal-Gambia Border Management Commission.
The two heads of state also signed agreements in the areas of defense and security, tourism and consular affairs, as well as air and maritime transport. Draft agreements on justice, fisheries, transport and forestry was also discussed.
The two leaders reaffirmed their strong commitment to promoting peaceful coexistence, good neighbourliness and brotherly relations based on mutual respect and trust.
Read Other Articles In Article (Archive)