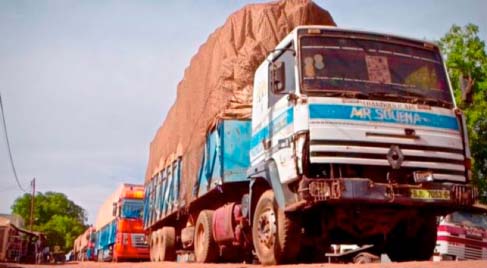 The Senegalese transport union on 24 May 2016 announced through the Senegalese media the reopening of the Gambia-Senegal border, which was closed since 15 February 2016.
The closure took place when The Gambia increased its tariff on ferry crossing from 4000 CFA (equivalent to D300) to 400,000 CFA (equivalent to D28,000).
In reaction, Senegalese commercial trucks and other vehicles, through the recommendations of their transport union, decided to boycott the Gambian routes and started using their eastern Senegal routes.
During the three-month standoff, the population of the two countries including neighbouring countries suffered a lot, which resulted in gross revenue losses between the two countries.
On May 15 this year, the authorities of Senegal and The Gambia met in Dakar to iron out their differences, and did agree on a 38-point proposal to foster relations between the two countries.
Alhagie Mansour Ndire, the spokesperson of the transport union, told the press: "We respect the decision of our government by agreeing to reopen the border. We complained to the Senegalese authorities about the high increment of tariff on ferry crossing, which has now been resolved and returned to the previous price of D300."
He added: "Whenever we encounter the problem again, we will report to our authorities and they will take action."
It should be noted that since March this year The Gambia had reduced the fee of the ferry crossing, and took it back to the previous 4,000 CFA (equivalent to D300), as well as reopened its border, but Senegal continued to maintain the border closure.
In a related development, equipment and building materials arrived at Banjul ports on Monday, for the construction of the Trans-Gambia bridge, and work will now commence in earnest, official sources said.
Foundation laying for the construction of the bridge started about two years ago.
The bridge, which is 942 in length with a concrete navigation area of 70 meters wide and 15.5 meters high, is being financed by the African Development Bank (ADB) to the tune of D4 billion.
Read Other Articles In Article (Archive)