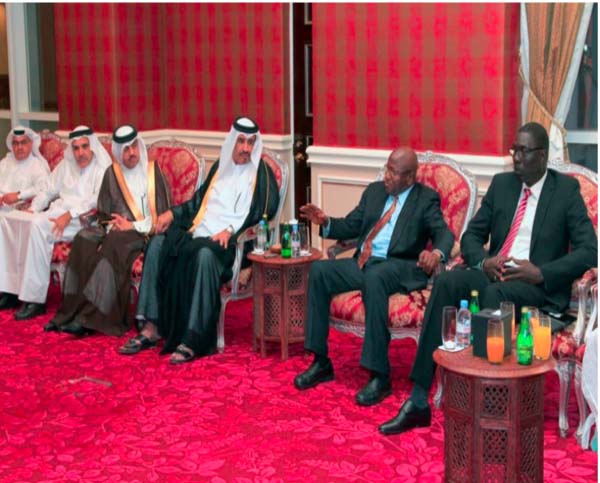 A trade delegation from Qatar Chamber met in DohaTuesday evening with a Gambian delegation to discuss ways to strengthen economic ties and trade exchange between the two sides.
Minister for Presidential Affairs and Secretary-General at the Office of Gambia's President, Kalilou Bayo, said his country has many investment opportunities, especially in the tourism sector, calling Qatari businessmen to explore those opportunities.
He said that the meeting represents a good opportunity to know these investment opportunities and economic possibilities in The Gambia to discuss the possibility of cooperation on them as well as to identify the business community in The Gambia, stressing that his country enjoys security and social peace.
Gambian Minister of Trade Abdou Jobe reviewed investment opportunities in his country, saying that there are many sectors that have promising investment opportunities led by the sectors of services, tourism and agriculture as well as real estate and lands development.
Meanwhile, Gambian Minister of Finance and Economic Affairs Kebba Touray stressed his country's commitment to support the private sector and provide an attractive investment environment for investment, adding that the signing of an agreement on the avoidance of double taxation between Qatar and Gambia is a step on this road, pointing out that the two countries have in the past signed a number of agreements that will support investment and trade exchange between the two sides.
For his part, Vice Chairman of Qatar Chamber of Commerce and Industry (QCCI) Mohammed bin Ahmed Tawar Al Kuwari who led the Qatari delegation said that the private sector in Qatar seeks to take advantage of the nature of the good relations between the State of Qatar and the Republic of the Gambia, where Qatari businessmen wish to explore investment opportunities in Gambia in all fields, noting that such a visit is an appropriate chance to discuss ways of cooperation between the private sectors in both countries.
HE also stressed that the Qatar Chamber urges businessmen from both sides to find genuine partnerships and collaboration for the good relations between the two countries.
Chief Executive Officer of Qatar Industrial Manufacturing Company (QIMC) Abdulrahman Al Ansari, who was among the members of the Qatari delegation, called on Gambian businessmen to provide economic studies for projects and investment opportunities available with them so that it can be studied on the ground.
He also stressed that the most important concern for businessmen and companies that want to invest abroad is the efficiency of a country's financial and banking system, which should allow easy transfer of funds.
Fahad Hamad Al Mohannadi, General Manager of Qatar Electricity and Water Company (QEWC), said that the company is interested in investing in the African continent, noting in this regard to the company's efforts to win a project for the production of wind energy in Morocco, adding that it also have talks with each of the states of Senegal and Sudan in order to discuss the possibility of establishing projects to generate electricity there.
He also noted that QEWC entered with French and Moroccan energy companies into a project to produce wind energy in Morocco, which includes plants to reach a total power capacity of approximately 850 MW.
(QNA)
Read Other Articles In Article (Archive)