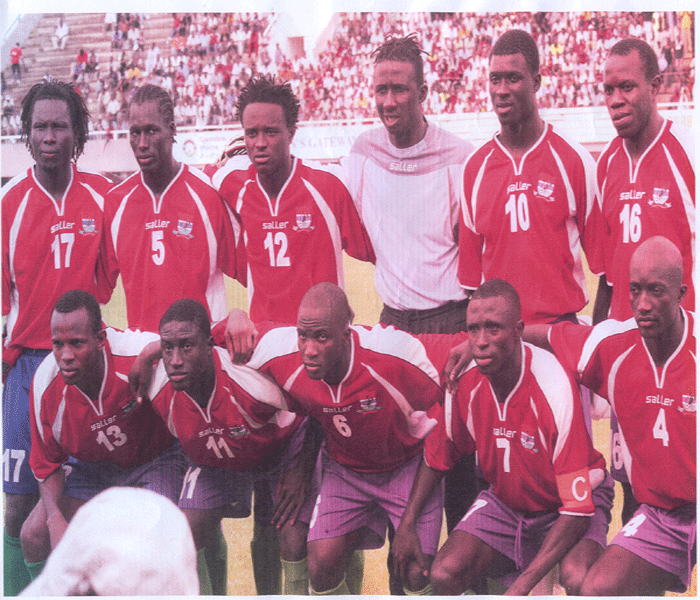 Despite a brilliant performance against
Senegal
last Saturday in
Dakar
, The Gambia's hope of reaching the next stage of the World Cup/Nations Cup qualifiers was dashed when they drew 1-1.
Ordinarily, the draw should have been enough for The Gambia to qualify for the second round of both tournaments, but the new CAF rules aborted The Gambia's dream.
The game kicked off at at the Leopold Sedat Senghore Stadium. Barely two minutes into the game, Gambian striker Ngogu Demba got a chance after a poor clearance from the Senegalese goalkeeper Tony Sylva. But it went over the bar.
The Gambia could have scored in the 21stminute when the Gambian captain Ebou Sillah got his first chance but was denied by the Tony Sylva.
The home team got their first chance from their veteran player Khalilou Fadeiga.
The Gambia took control of the game and got numerous chances but could not find the back of the net.
The first half ended in goal less, but The Gambia was dominant.
Back from the interval, the Gambian strikers put more pressure on the Senegalese defence, which gave the Gambia another chance to take the lead. Again Njogu Demba came close to putting the visiting team in the lead but the shot went over the bar.
Senegal made a double substitute removing Salifou Diao and Khalilou Fadiga and bringing in Ousman Ndoye and Remis Gomez, which gave the home side some reinforcement in the midfield that had been dominated by the Gambian youngsters Tijan Jaiteh and Mustapha Jarju. The substitutes brought back the home team in the game, putting pressure on the visiting team. The incessant pressure made the Gambian defence to make a mistake and Kader Manga's shot was deflected from the Gambian defender Abdou Jammeh to give the home team the lead in the 65thminute.
The Gambian coach Paul Put made changes in the 73rdminute, removing Ebou Sillah and bringing Ken Mansally.
From that moment, the Gambians dominated the game and Njogu Demba could have equalized in the 80thminute from Aziz Corr Nyang's pass but again was denied by Tony Sylva.
Njogu Demba was removed and Omar Kruma was brought in. This change gave The Gambia more advantage to control the game until the 85thminute when Aziz Corry Nyiang grabbed the equalizing goal for The Gambia.
Read Other Articles In Article (Archive)