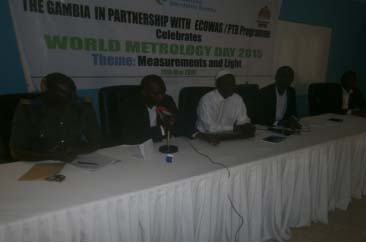 The Gambia Standards Bureau, in partnership with the ECOWAS/PTB Programme, yesterday observed World Metrology Day at a ceremony held at the Khamsys Technology Limited in Bijilo.
Officials of the Gambia Standards Bureau revealed that the celebration was an annual event worldwide, in recognition of the Metre Convention in France on 20 May 1875.
The Metre Convention was created to set the framework for global collaboration in measurement, and the theme for this year's celebration is: ''Measurement and Light.''
Speaking at the forum, Bai Dodou Jallow, a standards officer, said the Gambia Standards Bureau was mandated to oversee industrial and scientific metrology, adding that the other aspect of metrology is legal metrology.
He described metrology as a very important sector for the country, as most of the transactions that people do in the country have to do with measurement.
He added that even in the area of manufacturing and processing, measurement also takes centerstage.
According to Mr Jallow, measurement is something that is central to human life, which was why the government decided to come up with an institution to ensure that the measurement system in the country is accurate at all stages.
Mr Jallow noted that the measurement system in The Gambia has been structured in such a way that the national metrology lab, which is under the Gambia Standards Bureau, takes care of scientific metrology.
He said as this year's theme implies, the celebration of World Metrology Day was aligned with the International Year of Light, as well as light-based technology, proclaimed by the General Assembly of the United Nations, organised by UNESCO, he said.
Abdoulie Njie, acting controller of weights and measures at the bureau, also talked about the significance of World Metrological Day.
Metrology plays a central role in enabling the application of light-based technology, he said.
In his opening remarks, Ousman Bojang from the Ministry of Trade, commended the Gambia Standards Bureau forcommemorating World Metrology Day, with the theme: ''Measurements and Light''.
The idea behind World Metrology Day is to bring to the poor the importance of measurement in the global economic development.
The Gambia government is supporting the scientific metrology to ensure fair-trading in the market for consumer's welfare and industrial development, he said.
The Act on metrology in the country is being finalised at the level of the Cabinet for endorsement, and its objective is to ensure "the work of the Bureau is supported very well legally and financially".
Bojang added that the celebration of World Metrology Day would bridge the gap between the metrology community and those who work to develop and exploit light-based technologies.
Read Other Articles In Article (Archive)