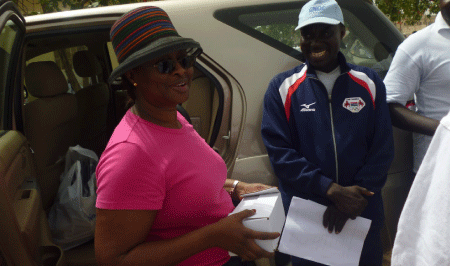 The Gambia National Olympic Committee (GNOC) on Sunday celebrated Olympic Day in the form of volleyball and handball galas as well as an athletics contest for 25 schools at the Olympafrica Centre, Serrekunda East Mini Stadium.
Delivering the message on behalf of the president of the International Olympic Committee (IOC), IOC member Beatrice Allen said: "Olympic Day is a moment to stop and reflect on the great gifts that sport gives us all."
She added: "It's a day to celebrate a dream: the dream of one young man that began on 23 June 1894 at the Sorbonne University in Paris.
"That young man was Pierre de Coubertin. He wanted to teach the world the basic human values - embodied in sport- that would enable us all to lead better lives and to build better communities.
"His vision- celebrated today - on Olympic Day was for everyone - regardless of age or ability.
"And it was a vision - the Olympic Vision- that today brings together millions of people from all around the world."
The IOC member also said: "This day gives us all a chance not just to celebrate that vision, but to do so by joining together in activities in every corner of the world.
"Sport teaches us how to strive for excellence in all that we do: how to live in friendship and peace; How to respect ourselves and our neighbours; and how to strive for excellence in everything we do."
She continued: "Above all it reminds us of sport's ability to bring out the best in us all. But let's not forget that sport is also about enjoyment. So celebrate the vision, but above all have a great Olympic Day!"
As part of the results, in the female category final of the volleyball, Abuko Upper Basic School beat Olympafrica Centre in Serrekunda East by 2 sets to nil, while in the male category Olympafrica Centre Serrekunda East beat St. Therese's Upper Basic School by 2 sets to nil.
In the handball final, Olympafrica Centre Serrekunda East defeated Serrekunda Lower Basic School 4-2 in the female category, whilst Bakoteh Proper Lower Basic School lost to Olympafrica Centre Serrekunda East 6-2.
In the male category of the 3km road race, Nfamara Njie of Latrikunda Sabiji Upper Basic School took first position, Ebrima Sawaneh from Bakoteh Upper Basic School took second position and Adama Njie of Musa Bun Nasir captured third position.
In the female category, Nyima Marong of Bakoteh Upper Basic School took first position, Awa Kinteh of Latrikunda Sabiji Upper Basic School secured second position, and Ledina Prerria finished third place.
Read Other Articles In Article (Archive)