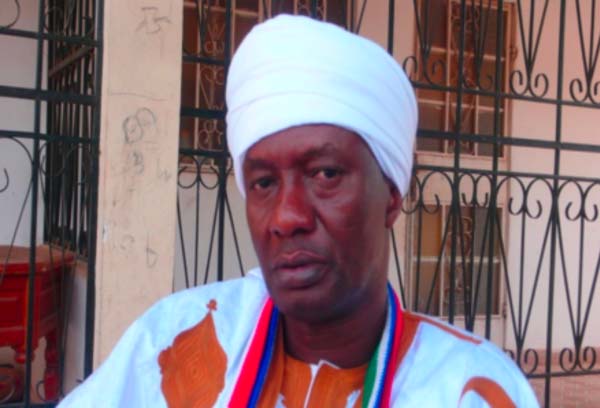 Ousman Yarbo, Executive Director of the Association of Non-Governmental Organizations (TANGO), has said The Gambia needs more Modou Turo Darboes, the Chief Executive Officer of Vision Development Foundation (VDF), to join the crusade in eradicating hunger and poverty in the country.
He said the VDF CEO has been doing wonders, to the surprise of many, considering his sharing and caring nature in giving out cheques amounting to half a million dalasi, 50 bags of rice and 50 cartons of beverages to the Christianity community, the public and private sectors, students, individuals, and the needy, which are addressing some of their needs and aspirations.
Mr Yarbo was speaking during the presentation offood items to the Christian community in The Gambia alongside the presentation of cheques amounting to half a million dalasi to various NGOs, gov't institutions, UTG students, the needy,among others, at the VDF office in Churchill's Town recently.
The presentation of the food items and cash was to support the Christian community in The Gambia in observing Christmas.
Mr Yarbo described Turo as a true Gambian patriot, adding that the young man is an exemplar of the kind of people The Gambia needs, people who have no boundary in giving support to their brethren, the needy and vulnerable in society.
He also highlighted some of the support Mr Darboe has been rendering to communities, such as road rehabilitation, renovation of sub-police stations, complementing government's efforts in many areas, and making a good Ramadan and enjoyable 'Tobaski' for many.
These are some fundamental areas in which NGOs operate, as government has given them the space to operate, Yarbo went on.
"I still want to continue to appeal to government for more space in order for NGOs to support the poor and needy people," he said.
According to Mr Yarbo, there are many NGOs in the country, but VDF is a special NGO that is worthy of emulation.
Lamin Dibba, the board chairman of VDF, said the presentation of gifts to the Christian community in The Gambia is a tradition for VDF under the leadership of the founder, Modou Turo Darboe.
He expressed happiness that the VDF had been supportive of the poor and needy in society, and had also taken the development agenda of the country by promoting grassroots development initiatives.
According to Mr Dibba, the main objective of VDF is to complement the efforts of the government in eradicating hunger and poverty, as well as in supporting the youth, who are the future of the country.
He said as citizens of the country, they all have a responsibility to support one another and to emulate what the VDF is doing through sharing the little they have.
"Sharing and caring is one of the teachings of our Prophet Mahummed (SAW)," Mr Dibba said, calling on all and sundry to emulate Modou Turo Darboe, who inherited such a nature and spirit of sharing, caring, love and support from his late father.
Read Other Articles In Article (Archive)