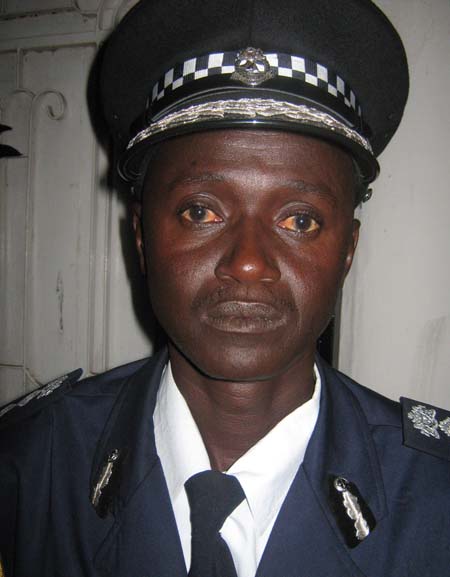 The lower court in Banjul yesterday refused bail to the former Inspector General of Police, Ensa Badjie, who was arraigned alongside Tijan Badjie, ex-Officer Commanding prosecution, Banjul Division.
Ensa Badjie and Tijan Badjie are being tried at the Banjul Magistrates' Court on four counts of conspiracy to defeat justice and interference with the witnesses, abuse of office, deceiving witnesses and destroying evidence. Both have denied the charges.
However, the ex-police prosecutor, Tijan Badjie was granted bail of D500, 000, with two Gambia sureties with landed property and ordered to report to Sibanor Police Station, where he resides on a daily basis.
Ensa Badjie was refused bail for the mean time on the grounds that he has other pending case at the High Court of the Gambia and he would benefit from bail when he clears up his cases at the High Court in Banjul.
In reply to the defence counsel application for bail yesterday, Njemeh Jallow, state counsel, told the lower court that the state was vehemently opposing to bail for the accused persons on the grounds that investigations into the matter are yet to be completed and if they are granted bail, they would interfere with the witnesses.
Principal Magistrate Nkea in his ruling said the state counsel opposition to bail lacks merit and subsequently granted bail to the second accused, Tijan Badjie, with the above-mentioned conditions.
It would be recall that the defence counsel LS Camara earlier applied for bail for his clients, saying the offence committed is a bail-able one.
He said taking cognisant of the fact that the bail is at the descretion of the court, the defence would urge the court to grant the accused persons bail.
The case was adjourned till 5th January 2011.
Ensa Badjie, it would recall is currently facing numerous criminal trials at the High Court in Banjul including the 51 counts indictment proffered against him and two senior military officers before Justice Emmanuel Amadi.
Ensa Badjie is also facing robbery-related charges at the Special Criminal Court of the High Court in Banjul. He is also facing another D20 million civil suit, filed against him by a businessman before Justice Lamin Jorbateh.
Read Other Articles In Article (Archive)