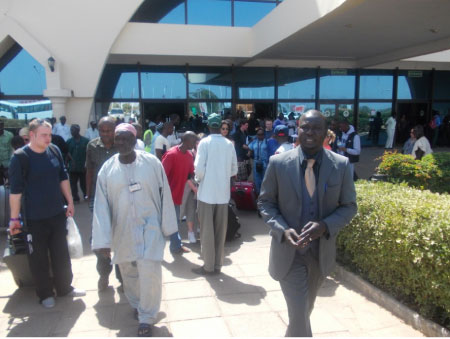 A group of students from Middlesex University in London arrived Monday afternoon, as guests of the Ministry of Youth and Sports, under the partnership programme signed between the two since 2009.
The visitors from the university have been coming to train Gambians in various skills ranging from sport to performing arts.
Jackie Eleanor Jeffrey, a senior lecturer at the Middlesex University who led the group annually to Banjul, said: "We are here under a partnership that is more than just money, but one which is about skills sharing, knowledge, and experience. We are here to offer knowledge in our respective areas of expertise and of course learn some from our hosts, Gambians.
"I have been here many times now, I know the skills and talents The Gambia has. I think it is about time Gambians recognised what they have to offer the world rather than everybody thinking that they have something to offer to The Gambia. So we come to change things a bit.''
According to Jackie, her team would set up a football coaching course at both Level One and Two, a sports leadership course, dance, athletics, basket and volleyball, which the Minister himself is very much interested in.
In addition, the partnership is seeking to set up a sports academy in Kanilai and a rowing club in Jarra, "so that talented athletes can possibly get a chance to ready for the next Olympics".
"We also want the Gambian team to win the next Africa Nations Cup,'' she teased the waiting press corps at the airport.
On hand to receive the group included Councillor Kebba Bojang of Kanilai, the Sindola Hotel management community members, National Sports Council executive secretary Mamudou Max Jallow and development officer Fabakary Touray who said the arrival of the Middlesex students is part of the desire of the Ministry of Youth and Sports to develop Gambian sport.
"This is a great partnership and a great achievement for our government," Touray said. "As you know the Gambian government is keen on any area the youth are focused on. And this partnership develops the sporting aspects of that development agenda.
"The Middlesex University group comes to horn the talents and skills of our Gambian youth in many disciplines, from football to even the arts. These were all part of the things we discussed during my recent visit to the UK."
Touray said the partnership is a great pride for the National Sports Council (NSC), who is always at the forefront of coordinating development agenda for the government through the Ministry of Youth and Sports.
During the stay, the visitors will call on the Minister of Youth and Sports on February 21, visit the University of The Gambia on Thursday, attend the independence anniversary celebrations on February 18 and also set up sports and coaching courses in addition to a dance and performing arts competition.
Read Other Articles In Article (Archive)