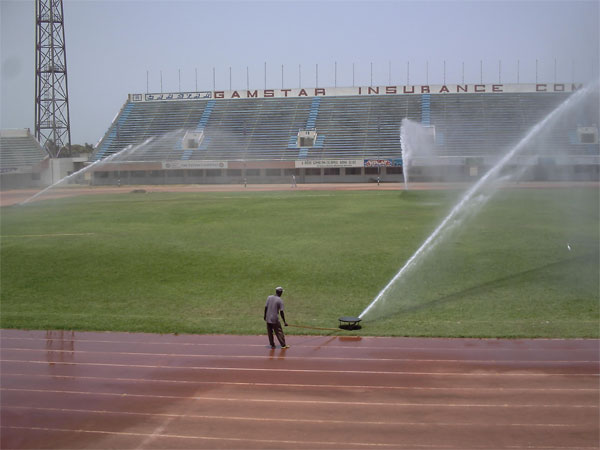 The Gambia has been cleared by the world football governing body FIFA, to play its world cup qualifying matches at home after the only national stadium had to face inspection by a FIFA inspector who arrived earlier in Banjul in May 6th 2008.
The Gambia's home ground, together with other African stadiums, were under threat in recent months of being barred from hosting World Cup qualifying matches by FIFA due to poor pitches and facilities in their national stadiums.
Other African Stadiums cleared by FIFA to host their matches included Congo, DR Congo, Namibia, Sierra Leone, Swaziland and Zambia. All will be allowed to host matches in the next few weeks after having upgrades or starting improvements demanded by FIFA.
But football's ruling body has warned it might clamp down again if the improvements ordered are not in place by the start of the second phase of group qualifiers in November.
"In order to play 2010 World Cup qualifiers in stadiums at the level of such a competition, FIFA took the initiative to inspect several stadiums in Africa in the past months," a FIFA spokesman said.
"Based on the inspections and thanks to the works already realised since then, FIFA has authorised that these stadiums be used for the preliminary competition matches of the 2010 World Cup.
However, in most cases, FIFA has decided that the present authorisation is conditioned by the mandatory completion of some works by the end of November."
Many African countries were under the threat of having to move their upcoming home matches to neutral venues but now only Lesotho and Togo are playing home matches outside their borders.
Lesotho have moved matches to Bloemfontein in neighbouring South Africa because of renovations to their only stadium.
Togo have been given a four-match home ban after violence at the last qualifier they hosted in last year's African Nations Cup qualifiers, when supporters attacked Mali's players.
Togo, surprise World Cup finalists in 2006, have moved their matches from Lome to neighbouring Ghana.
Read Other Articles In Article (Archive)