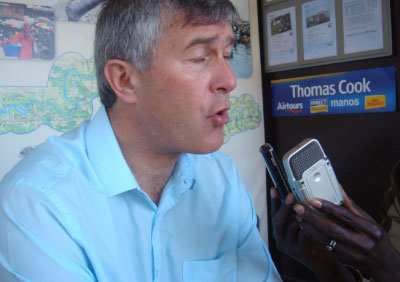 Gambia Experience, a specialised UK tour operator, recently announced its winning projects in The Gambia, for what the agency described as their good causes in the country.
This disclosure was made at The Gambia Experience's 25 Year Anniversary of offering quality holidays to The Gambia.
Speaking to journalists at a press conference held at the Kombo Beach Hotel on Monday, Chris Rowles, the Managing Director of Gambia Experience, said The Gambia Experience has notified its winners for the disbursement of 25,000 pounds funds for good causes.
According to him, the Gambia Experience is a member of the UK organisation, AITO, and the Association of Independent Tour Operators.
Rowles said The Gambia Experience closely works with the Gambian authorities and businesses, aimed at promoting the tourism industry.
Mr. Chris Rowles further thanked those Gambians working with The Gambia Experience, who continued to provide excellence, and to help tour operators maintain its high percentage of repeat bookers.
While stating that 40 percent of The Gambia Experience holiday guests return to The Gambia at least once, she said the Gambia Experience promotes tourism to The Gambia by providing educational trips for travel and support for the media crew.
He told journalists that The Gambia Experience founded its School Development Fund in 1989, with the aim of funding schools in The Gambia, as well as helping its clients.
The company has supported over 120 school projects in The Gambia, overseen by The Gambia Experience Resort team. The company has a long history in sustainable tourism and it was one of the first UK tour operators to receive the AITO Association of Independent Tour Operators in the UK 5-star award for its sustainable development work.
The core values of The Gambia Experience, which have remained throughout these 25 years, are to provide excellent holidays, first class customer service, and to share its love for this incomparable, unique African destination, The Gambia.
Dick Sisman, sustainable tourism adviser, who served as the chair of the panel of judges, expressed gratitude for the trust bestowed on him.
Read Other Articles In Article (Archive)