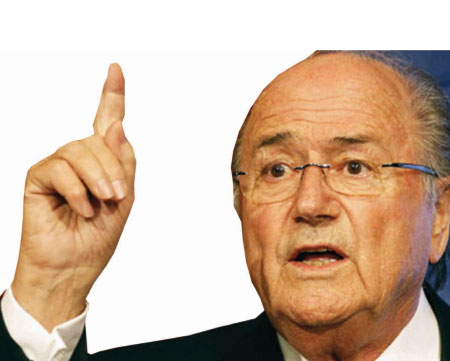 Following the meeting of the Gambian delegation led by the Minister of Youth and Sports Hon. Alieu K. Jammeh and the FIFA executive in Zurich on Tuesday, the Ministry of Youth and Sports in Banjul yesterday issued a press release on the outcome of the meeting with FIFA.
"In our pursuit to ensure all stakeholders are adequately and efficiently informed on the genuine need to dissolve the former GFA Executive, the Ministry upon invitation from FIFA travelled to Zurich and held meetings with the President of FIFA, Joseph Sepp Blatter, the Secretary General of FIFA and two other members of the FIFA emergency committee on Tuesday 20th March 2012 at 1500 hrs at the FIFA Headquarters," the release announced.
According to the ministry, the outcome of the meeting included, among others, that the FIFA President informed the ministerial delegation that the Emergency Committee of FIFA has agreed with formation of the Interim Normalization Committee.
Secondly, FIFA has the prerogative to nominate membership of the interim committee in such situations in line with FIFA statutes, and it accordingly nominated 7 members as follows: Mr Ousman B.Conateh, Mr Omar Sey, Mr Salifu Jaiteh, Mr Cherno Marenah, Mr Remi Joiner, Mr Sulayman Joof and Mr Cherno Touray.
"FIFA also advised that the six weeks term of office should be extended to six months in order for the Interim Normalization Committee to be able to do a good job, and to organise an all inclusive and transparent General Assembly for the election of new officials for the Football Association."
The release added that FIFA also emphasised the need for the Interim Normalization Committee to harmonise FIFA Statutes with the GFA Constitution in order to restore constitutionality in Gambian football.
It went further to state that FIFA has promised to send a delegation to The Gambia to assess the county's infrastructure development and grassroots football.
The outcome of the meeting also included that FIFA will provide necessary training on technical aspects and the governance of football for the new Executive Committee members, as soon as they are elected into office.
"The move allows the Gambian teams to participate in all FIFA and CAF tournaments, and will allay the fears of all football enthusiasts that were worried about Gambia's international competitions," the release added.
Read Other Articles In Article (Archive)