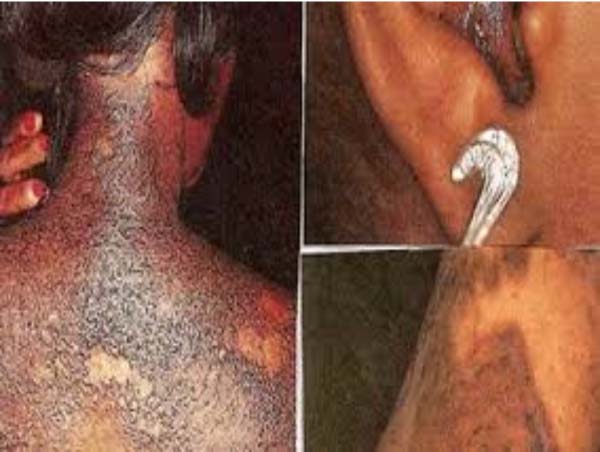 Hello and a warm welcome to yet another edition of She-she-she, your weekly column that deals with issues of women and girls within the country and beyond.
Every woman's dream is to have a good skin tone that will be the centre of attraction for that 'Lucky Man'.
Every woman wants to have good looking skin that is smooth, spot-free and flawless but does this mean that to get such a skin one needs to bleach by using chemicals?
A good number of women are into skin bleaching. Some are into it with the hope of getting more beautiful than they were before, while others are into it due to peer pressure.
No matter the case, either of these women knows the dangers attached to skin bleaching while others tend to ignore the dangers attached to it.
Some women are also addicted to it so much so that when they are out of pocket to buy the chemicals at the market, they go in for local chemicals at home level that are cheap but dangerous.
The global issue of skin bleaching or lightening has become a public health crisis of epic proportions.
Many people of color purchase and use skin bleaching products that later cause skin discolouration, skin cancer and other medical problems.
Due to the depth of this phenomenon, we will devote a two part series to this issue in order to explore the ethical and public health challenges involved in skin bleaching, especially involving people of colour.
The issue of skin bleaching is more dangerous and deadly for people of colour throughout the world because the practice also affects psychological and physical faculties.
The psychological impact for many people of colour to lighten one's skin in order to fit within the larger society's definition of beauty is now more widespread than ever.
Skin bleaching also symbolizes more complex psychological issues such as self-perception and self-esteem that have plagued people of colour.
Although many African women may not view their actions as medically dangerous, numerous medical studies have already indicated that excessive usage of these skin whitening products can have an adverse effect that may cause skin cancer.
Some African nations have even considered limiting the sale of skin whitening products due to the mass and, sometimes, excessive usage of these products by African women.
When interviewed by news outlets, many African women have expressed that media images portraying white women as beautiful greatly influenced their decision to whiten their own skin.
Furthermore, these women have added that although skin whitening products may have harmful effects, they would still use these products to look and feel more beautiful.
One has to wonder whether such a mass consumption of these products will eventually cause a self-induced public health crisis within a segment of the larger global population.
The reality is that without the conscious awareness of the negative impact of some coercive measures and a strengthening of one's individual identity, those who are faced with similar issues will not be able to overcome similar challenges.
The ethical issue involved in skin bleaching is that many skin bleaching products causes great harm to customers due to high levels of mercury.
Thus, many customers who buy these products are endangering the health of their skin, while skin care product companies continue to benefit financially from selling these products.
In many instances, customers are uninformed about the medical risks involved in consuming excess amounts of skin lightening creams such as Artra.
This product, in particular, is globally advertised to encourage women of colour to purchase it in order to have lighter and more beautiful skin, according to popular standards of beauty.
Skin bleaching can be a good option to get rid of the black spots or any other type of spots on skin. But, skin whitening options have become very complicated these days and there are plenty of options available in the market leaving the customers confused.
Although skin bleaching or whitening could be a good option for getting rid of dark spots or skin discolouration, the process is not free from side effects. Some of the products are rather very harmful and cause skin cancer too.
Therefore, it is very important you find out the side effects of skin bleaching before you opt for the whitening of your skin.
Harmful effects of skin whitening or bleaching
Bleaching is, in fact, a process in which the hair on the skin is bleached to match with the actual skin tone. However, the side effects are:
Dark grey spots, skin cancer, acne, swelling of the skin, thinning of the skin, cataracts, setting down of fat on face, chest, upper back and stomach, increase in appetite and weight gain, osteoporosis, neurological and kidney damage due to high level of mercury used in the creams, psychiatric disorders, severe birth defects, asthma, and liver damage.
Some of these side effects could be seen almost immediately while some are seen after prolonged use of skin whitening creams.
Natural ways of skin bleaching
Here are some of the natural ways for getting flawless and fair skin without using skin bleaches.
Diet - Diet is the most important part that you should take care of if you want a flawless skin. Take away all refined food products and replace them with healthy and nutritious ones.
Water - Increase your intake of water. This helps keep skin free of dehydration and so the look is healthy and unblemished. It also gives you lighter skin and flushes toxins out of your body system. It also gives you increased energy and better concentration. Remember, the body is 70 per cent water, so take a lot of water every day.
Cleansing - Take proper care of cleaning your skin. Choose the product that is natural and effective. Pay attention to exfoliating your skin from time to time so that you get rid of the dead skin.
Limes and Lemons - Citric acid is natural bleach and will help you have a lighter skin tone without any side effect. You can make a face mask with lime juice, few drops of glycerin and flour to make a paste. Apply this on your face and leave for 20 - 30 minutes. Wash with normal water. These methods are harmless and even cost you nothing extra.
Women should not forget that there is nothing more beautiful than having and nurturing the Black skin that God has given them.
Black is beautiful and it costs you nothing but skin bleaching costs you more than you can afford in a lifetime because the more you use it, the more addicted you are to it and the poorer you become.
Stop bleaching today, save money and guard your skin jealously against cancer.
Read Other Articles In Article (Archive)