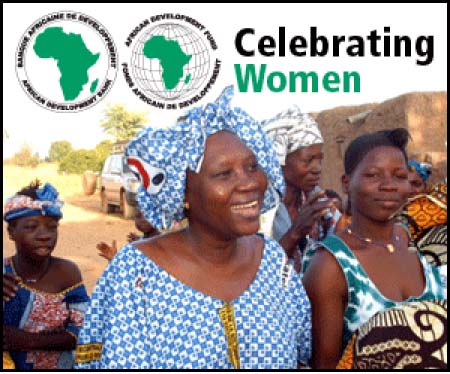 International Women's Day (IWD), originally called International Working Women's Day, is marked on March 8 every year. In different regions the focus of the celebrations ranges from general celebration of respect, appreciation and love towards women to a celebration for women's economic, political, and social achievements. Started as a Socialist political event, the holiday blended in the culture of many countries, primarily Eastern Europe, Russia, and the former Soviet bloc. In some regions, the day lost its political flavor, and became simply an occasion for men to express their love for women in a way somewhat similar to a mixture of Mother's Day and Valentine's Day. In other regions, however, the political and human rights theme designated by the United Nations runs strong, and political and social awareness of the struggles of women worldwide are brought out and examined in a hopeful manner.
WHO International Women's Day
The UN theme for International Women's Day 2012 was Empower Rural Women – End Hunger and Poverty. In that year, Oxfam America invited people to celebrate inspiring women in their lives by sending a free International Women's Day e-Card or honouring a woman whose efforts had made a difference in the fight against hunger and poverty with Oxfam's International Women's Day award.
On the occasion of International Women's Day 2012, the ICRC called for more action to help the mothers and wives of people who have gone missing during armed conflict. The vast majority of people who go missing in connection with conflict are men. As well as the anguish of not knowing what has happened to the missing person, many of these women face economic and practical difficulties. The ICRC underlined the duty of parties to a conflict to search for the missing and provide information for the families.
2013 International Women's Day
The UN theme for International Women's Day 2013 was "A promise is a promise: Time for action to end violence against women, while International Women's Day 2013 declared the year's theme as The Gender Agenda: Gaining Momentum.
The 2013 International Women's Day, the International Committee of the Red Cross (ICRC) draw attention to the plight of women in prison.
What do people do?
International Women's Day events are held worldwide on March 8. Various women, including political, community, and business leaders, as well as leading educators, inventors, entrepreneurs, and television personalities, are usually invited to speak at various events on the day. Such events may include seminars, conferences, luncheons, dinners or breakfasts. The messages given at these events often focus on various themes such as innovation, the portrayal of women in the media, or the importance of education and career opportunities.
Many students in schools and other educational settings participate in special lessons, debates or presentations about the importance of women in society, their influence, and issues that affect them.  In some countries school children bring gifts to their female teachers and women receive small presents from friends or family members. Many workplaces make a special mention about International Women's Day through internal newsletters or notices, or by handing out promotional material focusing on the day.
Background
Much progress has been made to protect and promote women's rights in recent times. However, nowhere in the world can women claim to have all the same rights and opportunities as men, according to the UN. The majority of the world's 1.3 billion absolute poor are women. On average, women receive between 30 and 40 percent less pay than men earn for the same work. Women also continue to be victims of violence, with rape and domestic violence listed as significant causes of disability and death among women worldwide.
The first International Women's Day occurred on March 19 in 1911. The inaugural event, which included rallies and organized meetings, was a big success in countries such as Austria, Denmark, Germany and Switzerland. The March 19 date was chosen because it commemorated the day that the Prussian king promised to introduce votes for women in 1848. The promise gave hope for equality but it was a promise that he failed to keep.  The International Women's Day date was moved to March 8 in 1913.
The UN drew global attention to women's concerns in 1975 by calling for an International Women's Year. It also convened the first conference on women in Mexico City that year. The UN General Assembly then invited member states to proclaim March 8 as the UN Day for Women's Rights and International Peace in 1977. The day aimed to help nations worldwide eliminate discrimination against women. It also focused on helping women gain full and equal participation in global development.  International Men's Day is also celebrated on November 19 each year.
Symbols
The International Women's Day logo is in purple and white and features the symbol of Venus, which is also the symbol of being female.  The faces of women of all backgrounds, ages, and nations are also seen in various promotions, such as posters, postcards and information booklets, on International Women's Day.  Various messages and slogans that promote the day are also publicized during this time of the year.
Wellbeing Foundation Africa Celebrates International Women's Day 2013 and Fights to End Violence against Women
On the 8th of March 2013, the Wellbeing Foundation Africa, celebrates International Women's Day by amplifying its action to elimination of violence against women and girls. The United Nations' 2013 theme for International Women's Day is "A promise is a promise: Time for action to end violence against women," a theme which exemplifies the longstanding commitment the Wellbeing Foundation has made towards the elimination of gender-based violence. This theme also correlates with that of the 57th Session of the UN Commission on the Status of Women's focus which is, "The elimination and prevention of all forms of violence against women and girls." This global high-level annual meeting is currently taking place in New York, from the 4th – 15th of March 2013.
In commemoration of International Women's Day 2013, the Wellbeing Foundation Africa will be presenting the Nigerian legislature with a petition in support of the passage of the Violence Against Persons (Prohibition) Bill, while launching key messages to create awareness and stimulate action, through the highly impactful Wellbeing Foundation Africa 24:7:365 'Say No to Violence Against Women" advocacy campaign. The petition, which will be delivered to the Nigerian National Assembly in the country's Federal Capital Territory, has been signed by over 400 of Nigeria's brightest young women who strive to effect change and uphold human rights.
It is noted that due to ongoing efforts by the Legislative Advocacy Coalition on Violence Against Women (LACVAW) of which the Wellbeing Foundation is a member, On the 6th of March 2013, the Lower House of the National Assembly adopted the report of the committee that reviewed the Violence Against Persons (Prohibition) Bill, and has slated a third reading for next week. If this reading is successful, the bill will move to the Senate. The passage of this bill in Nigeria is especially important given that up to 70% of women worldwide have experienced physical and/or sexual violence in their lifetime, with more than two-thirds of Nigerian women believed to have experience physical, sexual and psychological abuse in their villages.
Through the Wellbeing Foundation Africa 24:7:365 "Say No to Violence Against Women" advocacy campaign, the foundation will be launching and amplifying a series of messages, videos and images in support of the elimination of violence against women on the 8th of March. The key call-out video will feature Wellbeing Foundation Africa Founder-President, H.E. Mrs. Toyin Saraki, and other members of Team Wellbeing, speaking out against violence against women. The foundation will also feature free, downloadable materials to support all individuals and organisations wishing  to join the campaign, including: campaign message templates for picture messaging, template letters to policy makers, the petition template document, and a copy of the Violence Against Persons (Prohibition) Bill.
A catalyst of the United Nations' Every Woman Every Child effort in Africa, the Wellbeing Foundation Africa is dedicated to improving maternal and child mortality indices, empowering women and girls to build capacity, progressing equal rights, and promoting peace and non-violence. The foundation remains steadfast in the fight against violence against women, as taking action to end this violence will propel the economic, political and social achievements of women.
The Wellbeing Foundation Africa, who will be partnering with the WIE Symposium Africa from the 5th to 7th of May 2013 to showcase successful African women and innovation, therefore joins the UN Secretary-General Ban Ki-Moon as he calls on all governments, civil society, multilateral institutions, youths, the private sector, and the media in addressing the global issue of violence against women. As the world encapsulates the post-2015 Millennium Development Goals agenda, the Wellbeing Foundation Africa emphasizes the importance of global partnerships (MDG 8) that will respond to the transnational challenges of the 21stcentury, including violence against women and factors hindering women's empowerment worldwide.
International Women's day: The condition of African women
This year marks 101 years of International women's day but wonder if things have changed for African women in real terms. There is no doubt that there have been huge changes for the better but how wide spread  these changes are is the subject of this post.
If we speak generally we can see that within the last 100 years Africa has had its first Woman President in Ellen Johnson Sir leaf something that some among had never dreamt possible .
Increased access to education for African women has meant that many African women have it into the boardrooms of multinational corporations, governments, political and education institutions and agencies as well as international institutions. This increase in access to education has also meant that African women have access to jobs/employment outside of the home than was previously the case and consequently african women now have financial independence and as a such a say as to how this is spent in the home.
African Women are also making huge strides in the areas of technology and indeed the head of policy at Google African is an African woman.
This is all great news indeed. But and there is always a big but, the disparity between the women I have described above and those at the bottom, mostly rural African women is huge. Progress for such women is hampered by several things,
1.     African culture and norms
2.     access to education
3.     inability to negotiate how family income is spent
4.     having no say as and when they can have children or how many children for that matter (contraception comes to mind here)
5.     property rights
6.     world issues such as globalization
7.     It is not my intention to discuss each of these in detail here as we have discussed some of them of this platform several times. But I would like to turn to the issue of what has been termed as LAND GRAB which was the topic of the BBC Africa debates last month. What struck me in that debate was that African women were being hit by both the effects of Globalization and remnants of African culture that do not serve us. A woman on the programmer said words to the effect- we do not have a say in how the land deals are negotiated because we are asked to leave the room when the negotiations start
The question is What could be done to ensure that the world of the African woman who has no property rights, access to education, independent income etc, converges with the rest the world?
For further information e mail azadehhassan@yahoo.co.uk, Text 002207774469 / 3774469, or call on AFRI-RADIO DR Azadeh Health live show from 9-9.30 am.
Author: DR Hassan Azadeh Senior Lecturer at the University of the Gambia, Senior Consultant in Obstetrics & Gynaecology.  
Read Other Articles In Article (Archive)