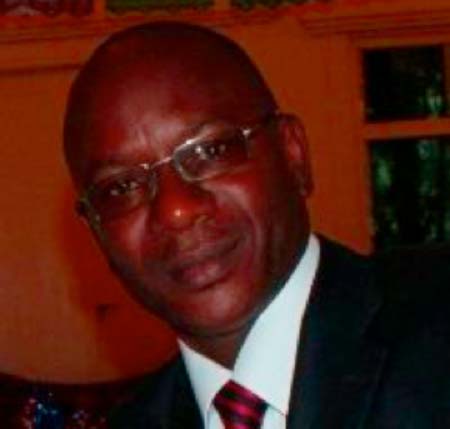 The Gambia Basketball Federation Saturday held its third annual general meeting at the GNOC Headquarters in Bakau.
The AGM was graced by the president of the Federation, members, the president of Gambia National Olympic Committee, Alhagie Momodou Dibba and Secretary general Peter Prom.
Abdoulie Jallow, secretary general of the Federation, said the federation is keen to taking basketball to all the corners of the country, as the basketball season was opened with a 3 on 3 basketball competition organised by US Embassy in Banjul.
Jallow stated that "the partnership between Gambia Basketball Federation and US Embassy is absolutely superb", adding that the embassy had been supportive of the federation in recent years.
Jallow further stated that The Gambia has taken part in the first edition of FIBA Sanctioned zone 2 basketball tournament hosted in Bamako on 14and 15 November 2015, and managed to grab bronze medal despite failing to participate in the international competition for over two decades.
Jallow said the team's trip to Bamako for FIBA basketball 3 on 3 tournament was bankrolled by the government through the Ministry of Youth and Sports to the tune of D150,000.
He added that GNOC had financed the air tickets and accommodation for the players and the president of the Gambia Basketball Federation to the tune of D30,000 to cover three nights and food in Dakar.
The president of the federation, Mohamadou Papa Njie, said the federation aims to offer life skills training to over 300 youths and sports instructors to educate current basketball players on coaches' laws of the game.
Papa Njie added that the federation is also planning to stage 3 on 3 basketball tournament during summer holiday to attract more people to basketball as well as organize the first-ever completion of basketball, which "has been overshadowed for decades".
Njie further added that the federation is also planning to train PE teachers, regional teams and clubs, as well as to promote National league, high school league, National assembly trophy and July 22 zonal competition.
Njie hailed President Yahya Jammeh for his efforts at promoting Gambian sport.
Yassin Joof Jawo, treasurer of the federation, said the major challenges of the federation are human resources and lack of sponsorship for the national league.
Mrs. Joof Jawo revealed that the totaled expenditure over the year was D897,328.03 quantified in cash and kind.
Mrs Joof Jawo appreciated GNOC, NSC and US Embassy for supporting the federation.
She also applauded GNOC for sponsoring Sang Marie Sambou to participate in the referees training course in Tunisia.
Read Other Articles In Article (Archive)