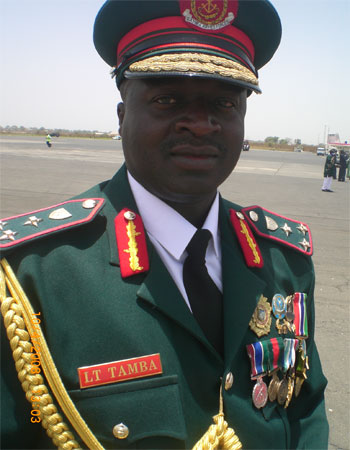 The Chief of Defence Staff of the Gambia Armed Forces, Major General Lang Tombong Tamba has revealed that the Gambia Armed Forces is rapidly expanding and thus called on all soldiers to keep up the momentum.
Military career, seen as one of the noblest, most interesting and challenging professions in the world has over the years seen the enrolment of a good number of Gambian youths.
This latest intake, which is the biggest recruit intake ever trained in the history of the Gambia Armed Forces is divided into two groups and has the highest number of females ever trained in a single intake.
Speaking at the recent graduation of a number of 876 recruits of the Gambia Armed Forces, Major General Tamba noted that more training programmes are coming on the way for soldiers. This he said, include Junior Non Commission officers cadres, Basic Military Training for Officer Cadets and more General Recruit Trainings.
According to CDS Tamba, from 1994 to date, the Gambia Armed Forces, through the support of President Jammeh, has been transformed and developed in all aspects.
"The numerous infrastructure and logistics improvements within the Armed Forces are there for all to see. All one has to do to convince themselves is to take a walk into any of our barracks or to look at the turn out of military personnel", he said.
CDS Tamba asserted that the Gambia Armed Forces has in the past been accustomed to training from 150 to 200 recruits yearly. "So I and my headquarters staff were fully aware of the daunting challenge that you were confronted with on the 6th of April when the biggest recruit intake of the Gambia Armed Forces reported to your door step for training."
For CDS Tamba, the watch-words of the new soldiers would henceforth be loyalty, dedication, discipline, commitment and faithfulness. "You must also never forget that you are soldiers because of the people/civilian populace. So serve them with courtesy, kindness and mercy and do not oppress them."
He advised the soldiers to be true service men and women and use all the skills of their military training to protect and defend the people nut not to harass them in any way.
"As I am talking to you right now, the Gambia Armed Forces is conducting a special recruitment of professionals and officer cadets.
"We have our officers and other ranks training in Pakistan, Turkey, the United Kingdom, United States of America, Taiwan, Ghana, Nigeria and the University of the Gambia where they are undergoing both military and academic studies," he revealed.
Read Other Articles In Article (Archive)