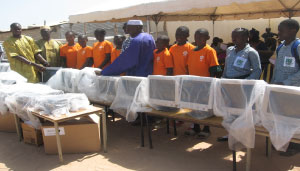 Galp Energia on 28 January 2012 presented 21 new computers to Wellingara Lower Basic School at a ceremony held at the school grounds.
The computers were presented on behalf of the company by Tijan Jallow, a Galp marketing officer and public relations officer.
Jallow expressed great appreciation with Dr Paulo Torres for donating 15 computer sets and further thanked Galp Gambia for facilitating the shipment of the computers from Portugal and for donating 6 more other computers to the school.
Jallow said the donation was done by Saint Antonio Hospital of Oporto through the initiative of Dr Paulo Torres, who is the head of the Ophthalmology Department of Saint Antonio Hospital, also known by his patronage to the school.
The representative further told the gathering that Galp Gambia joined the sponsorship giving support and offering transportation as well as adding up the six other computer sets to the school.
That was not the first time  they were contributing to the sector, he said, adding: "In 2011, we sponsored more than 15 students in various schools, both private and public covering the whole year fee and study materials."
Supporting the education sector is one of the priorities of Galp Gambia, Jallow said, while making further promise that they would concentrate not only on the education sector but also on other areas, which are in the pipeline.
For his part, the headmaster of the school, Malamin Badjie, expressed appreciation about the gesture.
Mr. Badjie said he met Paulo Torres in October 2009 when he was brought to the school as part of a team of tourists by the West African Tours.
Having been informed about the school development priorities, Paulo was poised to enhance the attainment of quality education for the pupils of the school and affirmed his commitment to ensuring that the Torres family contributes its quota to the development of the school, school headmaster Badjie noted.
Badjie further stated that the Torres family contributed towards the installation of electricity in the school kitchen. In view of that remarkable support to the school, they honoured him with the position of Goodwill Ambassador of Wellingara LBS, he added.
With the computers, it will make teaching and the learning environment conducive for both the students and the teachers.
He further thanked Galp Energia and Paulo Torres for their invaluable support, promising that the equipment would be put into good use.
Read Other Articles In Article (Archive)