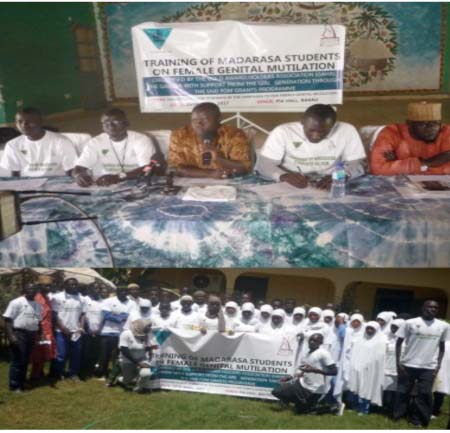 The Gold Award Holders Association (GAHA) conducted training for 40 Islamic school students drawn from West Coast Region and the Greater Banjul Area on Female Genital Mutilation (GFM) on Tuesday.

The daylong training, held at the PIA hall in Bakau, was supported by the Girl Generation through the End FGM grants program.
The theme for the training was "Engaging Islamic school students in the campaign to end FGM."
In his keynote address, Lamin Darboe, Executive Director of National Youth Council, commended GAHA for engaging those who are often out of the mainstream of FGM.
"Religion plays critical role in shaping people's perception around FGM even though the practice is considered a tradition", he added.
He stated that participants were not only targeted for the training as students but because they are the reference points for many people in their communities.
He added that when parents have concerns regarding issues of religion, often the first point of call are the religious leaders and as such it was important to engage them in education on the practice.
He also urged them to accept new knowledge on the effects of the practice to ensure girls and women are protected as well as the society.
He expressed his office's readiness to continue working with all relevant stakeholders in ensuring they reach every young person for them to be able to make informed choices.
Baboucarr Kebbeh, National chairperson GAHA, said WHO estimated that many girls undergo some form of FGM in Africa daily, adding that The Gambia was one of the countries with a high prevalence of FGM.
Mr Kebbeh added that it is important for the informal sector to be engaged in the campaign as the intervention on FGM in The Gambia has traditionally been from the formal sector and other youth organisations.
The training, he went on, aimed to bring together Islamic school teachers and students to widen their understanding, dispel misconceptions on Islamic views and ideologies around FGM.
In his welcoming remarks, Sainey Drammeh, PIA Executive Director, said FGM is detrimental to the health of the girl child and women in general.
Omar Ceesay, a representative of the secretary general of AMANA, thanked the organisers and also advised participants to discuss on the issue and share their opinion on the practice.
Read Other Articles In Article (Archive)