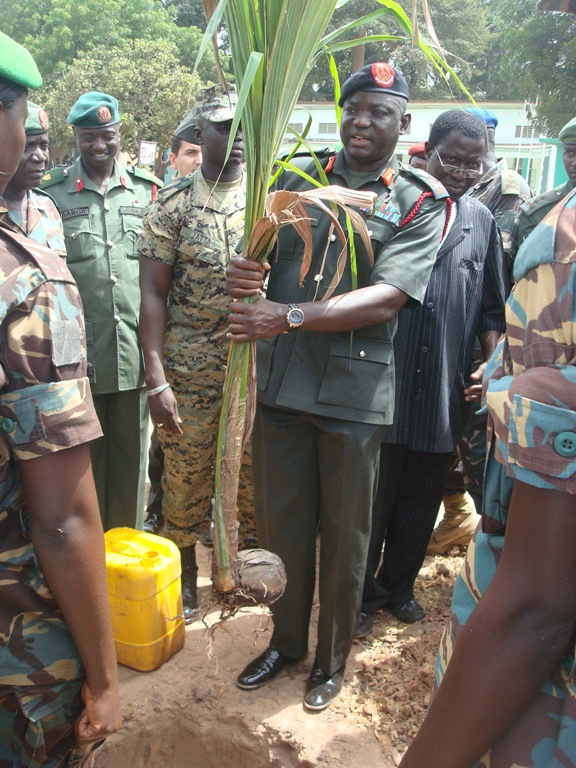 The Gambia Armed Forces has started by planting coconut trees at the Yundum Army Barracks to make the camp not only clean but green and to allow fresh air and preserve the environment. GAF is proving versatile in all its actions to show that they do not only defend human life and properties, but they are also there to protect the environment and preserve the earth. CDS Kinteh emphasised the importance of the coconut planting exercise urging his men to take it seriously. Society and Development was there to tell you in full.
At the start of the exercise, the Chief of Defence Staff, Lt General Mansaneh Kinteh, thanked President Jammeh for providing the enabling environment for all in the country. He acknowledged bringing up the initiative but added that, "someone must keep coconuts alive." He noted that it was not only a happy day for Gambia Armed Forces, and The Gambia, but also for mother earth too. Talking about its significance, CDS Kinteh says, "It is significant because we have to take ownership of the environment, not what we can give to it but what we can get from the environment. The preservation of the environment should be our concern. We have found a way to ensure what we inherit is well-kept and taken care of. If everyone here should plant a tree every year we should be rich in trees in ten years."
He pointed out that there is relationship between the army and the environment, saying that they train in the forest and they disturb the echo system.
"From now on we have to be concerned about our environment. I am not only interested in a clean barracks but a green barracks. When you plant a tree you are helping to providing fresh air. We have the responsibility to protect the environment," he said.
"To plant a tree is an event that would take only one second but to let it grow is another responsibility. There is no one in this tropical Africa that does not like coconut. You must love one part of it. It is soldiers' wives' responsibility to let us live in a clean and green environment. Planting a tree and sticking your name on it tells a lot," he said.
CDS Kinteh quoting the Nigerian Author, Chinua Achebe said: "The best time to plant a tree is ten years ago."
He promised that the coconut planting exercise would be done in all the army camps.
The Chief of Army Staff, Brigadier General Sereign Modou Njie, for his part applauded the initiative of the CDS.
He said: "Today 1st June is set aside as a coconut planting day for GAF. It will be conducted in all units throughout the country. We started here because it is the home of the infantry. Tree planting improves our environment and it is a prerequisite for everyone to plant a tree."
He expressed that tree planting is a gesture of hope because it will grow. "It will provide oxygen and protection from soil erosion. Families here should ensure the survival of the trees," he said.
He praised the efforts of his friend, Mr. Joof for securing the coconuts for planting.
Abdoulai Sanneh, the Director of Forestry, who also applauded the initiative added that, "it was a signal to say, Mr. Director keep doing it." He described the GAF as 'soldiers with a difference.'
He said it is good that GAF soldiers were more educated than expected. "You are not only here to protect lives and properties, but also securing human life, plants and animals. We only thought you are soldiers with guns but I have discovered that you are soldiers with a difference," he said.
In conclusion, he thanked the GAF and President Jammeh for making the people to eat and sleep peacefully. "If we drink 'attaya,' eat 'domoda' in peace you are the cause. I thank you!" he said.
Major Essa Tamba, the acting Commanding Officer of 1st Infantry Battalion (Yundum Barracks) said there is no manpower shortage in their camp to care for the plants.
"We have special personnel that will concentrate on the coconut plants. We have over 300 coconut plants and are all planted, we shall continue to plant more. It is our collective responsibility to protect the plants from animals. We should talk to our families to help with the plants. The idea is to make the place green," he said.
After the tree planting exercise, CDS Mansaneh Kinteh, dedicated it to President Jammeh. Deputy CDS Ousman Badjie, Colonel Chelayan, the Turkish Military Adviser among others. Lt. Wuyeh Dampha chaired the occasion.
Read Other Articles In Article (Archive)