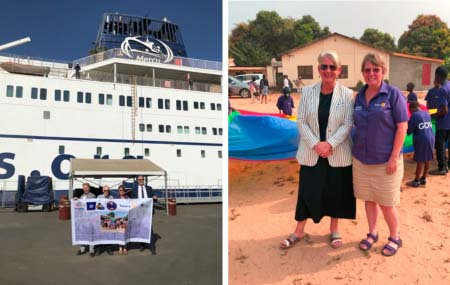 As Ambassador of Sightbox Trust my dream was to go back to The Gambia and spend time with visually impaired children and young adults developing their communication skills, confidence and independence.


So having given up a full time job, much planning and a programme put together, packed 120kg of equipment which included our clothing, held a bon voyage party to say farewell to family and friends, Nigel, my husband and I took off on November 9th 2019 from Manchester Airport to Banjul, The Gambia for 5 months.


On arrival at Banjul airport we were unexpectedly met at the bottom of the steps of the plane by VIP security.Bags collected and passports stamped we were driven to where we would be staying for the 5 months. Our accommodation was a 2 bed bungalow semi furnished in a secure compound with a 4 x 4 vehicle.


It did not take long to settle in amongst our friends and acclimatise to 11 hours of hot sunshine every day and challenges of daily water and power failure!


Many meetings were planned in our programme – this included meeting various Government Ministers, British High Commissioner, the 5 Rotary Clubs in The Gambia and visiting the compounds of local people and their families, attending Gala dinners and organising a hospitality night.


Sightbox was introduced to Start Now and GOVI in The Gambia back in January 2018 from a visit to St Vincent's School for Visually Impaired in Liverpool by PAG Rotarian Minyan Jobe. He could see the educational tools through sport in the box would make a huge difference and empower the lives of the visually impaired in The Gambia - for example mobility, confidence, independence, team building, friendship, education, and inclusion. Through inclusion and not segregation comes reverse inclusion as sighted and non-sighted students work together and in time become the trainers of the trainers. All leads to innovation and employment and coming up with new ideas for the box which have not yet been generated.


We are now beginning to see not only National exam results in Maths improve but also covering United Nations Sustainable Development Goals 17,3,4,5,8 & 10. All coming from working with something so simple.


Various presentations have taken place during our 5 months which included white canes, gym kits, projectors, laptops, hand balls with bells, card games in braille. The first eye test box is being put to use to help provide correct glasses for people with Albinism. I spoke at seminars to make sure people with disabilities whatever they are, are not segregated but included. No one has a disability – it is an ability with a challenge.The hand balls went into rural Gambia where four hubs for blind and visually impaired are being set up by Alieu Jaiteh from Start Now Gambian winner of Holman Prize Award. The first of these hubs opened on Saturday, 15th February 2020 in URR in the town of Basse. I drove the 350km to Basse as I had been invited to be present at the opening ceremony and give a statement before taking the first training session with the hand balls.


Downtime was also important in the planning so that we could explore the countryside and admire the birds, flowers, animals and sample the good food and wine.


My dream was certainly fulfilled and much much more but I am now going to share with you a challenge I had to overcome and one experience that really stood out.


The first meeting at GOVI school, I noticed that there was only one sighted teacher at the school and out of the 35 students only three or four had some vision. This was something I had to overcome and overcome fast. Luckily a meeting with Matida, a 17 year, a past Head Girl from GOVI who I had met back in January 2018 had invited us to go and visit her and her family in their compound. Matida has very low vision and was so happy to see us again. She has now been placed in a school for sighted children and is doing very well. I mentioned to her over a small cup of hot condensed milk with mint and lemon grass sat under the Mango tree my concerns. Matida looked at me, took my hand and said "Angela, you have the passion, you have a strong heart, go and teach the teachers and children, I know you can do it and they will love you for it as you will be helping to change their lives". To hear those words from a 17 year old who I had only met and taught briefly on my previous visits was very touching. I made a promise to her I would overcome this challenge and succeed.


The experience I have chosen to share is of one that took us to Dakar in Senegal. I had done some research prior to Novovember 9th and discovered Mercy Ships was docked in Dakar until June 2020. I sent an email explaining who I was and what I was doing and was it possible to board the ship. After sometime I received an email to say that we could go on board the ship and have a 2 hour tour to see the work that was being done to improve people's lives. As you can imagine this would be an experience never to forget. Meeting the crew, surgeons, patients and their families was truly amazing. What made the experience of being on Mercy Ships even more special was I was allowed as Ambassador of Sightbox Trust to present the ship with a Sightbox to help all patients and families on board with sight issues. This box will now remain on board and will travel wherever the ship goes. The new Mercy Ships being built with the help of Rotary and Inner Wheel will also have Sightbox on board. What an honour for Sightbox Trust and also to be allowed to go on board at any time I wish in the future.


This has certainly been one very special dream and one I will never forget.

Having driven some 3231km I now have to return to the UK on 24th March. I do so look forward to coming back sometime soon.


Thank you to everyone who made us very welcome and supported us during our 5 months stay. Rotary is certainly one big family as we take care of each other.

Read Other Articles In Article (Archive)