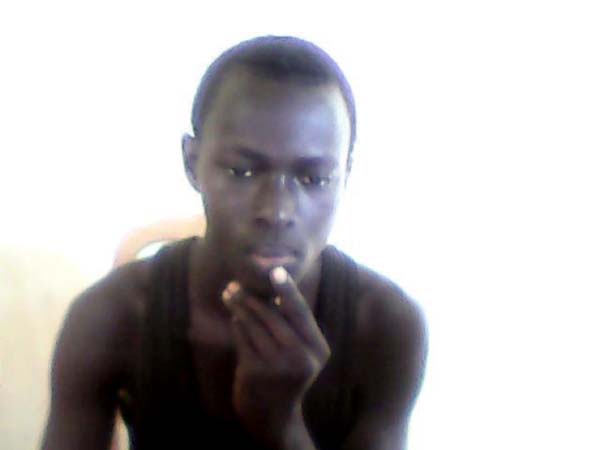 Meet Alieu Jallow aka Allen Jay, a young artist in the making, who cross carpeted from tailoring into music.

Allen Jay, who hails from NemaKunku, said he did his primary school education at both Sinchu Baliya L.B.D and Bundung L.B.S.
He later get to Junior School at Charles Jow, but unfortunately he stopped at Grade 8.
"I started my music career with dancing in 2008. I have a dance crew called 'Gaza Warriors' and we dance to every music genre including hiphop and R&B. The crew did not last because some of the members embarked on the 'back way' to Europe, and others went to do certain stuff," he said.
"R. Kelly was the artist I look up to and his lyrics inspire me, and that was the time I feel that I have feelings for music and want to prove it," says the youngster.
He added: "I started serious music in 2013 when I was a tailor at Kololi. I met with a rapper there called 'New Brain' that is always with his pen and paper, and we do go to the beach for rehearsals. I told him that I am interested in music too, and then he invited over to his house to talk.
"I started working on a new single with him called 'Mama', which talks about my mother and how she was there for me all the time making sure that I succeed."
He said that his music genre is hiphop, R&B, Rap, RapMbalax and the language is mainly in Wolof mixed with English sometimes.
The youngster told me that New Brain later introduced him to a group called 'K. Town' in Kololi, which is also a music group involved in different types of arts, including dancing and they were working as a team, but after one year the group separated.
He then returned to NemaKunku to his family and formed a fan base called 'Kingdom Allen', and continues to pursue his dream as a solo musician.
"I have 3 singles 'Mama, music is my way and yaa ma doye'. I work with K. Fly, Cornerstone and Ghetto Links Studios. I performed in Baibu's home-coming and other shows featuring big names in the Gambian music scene. I also do my own Open Mics at the Nema Football Field for three years now," he said.
"I will be doing an Open Mic on February 24 at Nema Football Field in collaboration with Black Lynx. My challenge as an upcoming artiste is finance to move forward some of my projects, including recording my songs and shooting videos."
He said he has a hot single for 2017 coming out called 'Ndaananngaidon' featuring Ass Malick for his fans and the entire Gambians.
He thanked his fan base Kingdom Allen, and his manager Badifaye for their support, and called on individuals and music lovers to help him in the best way they could, so that he could achieve his dreams of becoming the hottest, youngest and most marketable artiste, not only in The Gambia but in the world at large.
Read Other Articles In Article (Archive)