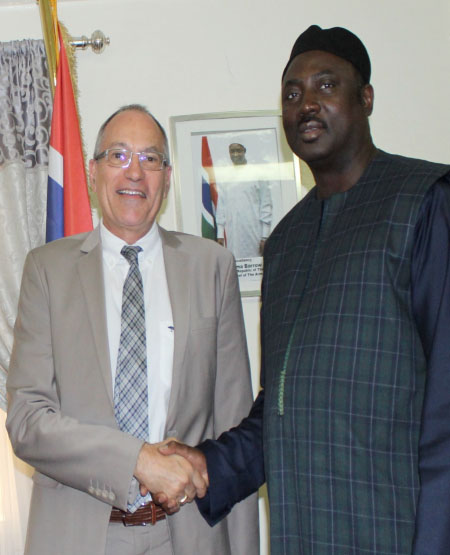 The French charge d'affaires, Joel Godeau, said his country will support the extension of the mandate of the ECOMIG mission in The Gambia. A news release from the Ministry of Foreign Affairs, International Cooperation and Gambians Abroad has said.

Godeau, had discussions with Dr. Mamadou Tangara on Thursday 2 January, 2020, at Foreign Affairs Ministry.
Minister Tangara welcomed charge d'affaires Godeau and wished him success in his endeavours in the New Year. During discussions, Tangara raised the need for issuance of long term visas to Gambians traveling on official and business trips to France. Dr. Tangara appealed for the two sides to work on the establishment of French visa processing centre in the country in order to prevent Gambians traveling to Senegal for visa processing which is time consuming and costly.
Upon the request for an update on the repatriation of Gambians abroad, the Honourable Minister used the occasion to inform Godeau that modalities are to be worked out with partners regarding the repatriation of Gambians abroad given that the moratorium placed by the Government of The Gambia is to expire in January 2020.
The two diplomats also discussed the forthcoming Africa–France summit due to be held in France from 4th to 6th June 2020 in Bordeaux. The French charge d'affaires also informed the Minister of the arrival of the new French Ambassador in Dakar. He sought the Minister's intervention to facilitate the early presentation of Letters of Credence to H.E. Adama Barrow, President of the Republic of The Gambia. In his response, Minister Tangara said he would liaise with the Office of the President to see how he can facilitate the presentation of the Letters of Credence before end of January 2020.
It may be recalled that the French Government designated The Gambia as a priority country for French Official Development Assistance (ODA) after the advent of the new democratic dispensation in January 2017 that ushered in H.E. Adama Barrow as President of the Republic of The Gambia. During the International Donor Conference on Gambia in Brussels, France announced a 50 million euro financing package that will run until 2022.
Read Other Articles In Article (Archive)