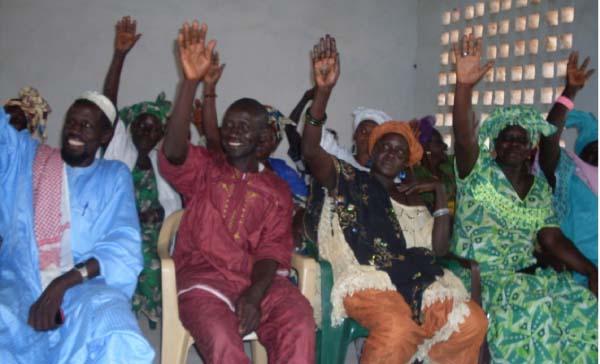 The National Farmers' Platform recently wrapped up ten days of outreach meetings with its grassroots membership organizations.
It was done with support from the non-state actors strengthening program of the European Commission, EC, and was aimed at strengthening the functioning of the district and regional farmers' platforms in The Gambia. 
This program targeted farmers platforms in  two regions, the North Bank  Region and Central River Region, as well as farmers platforms in  three districts in North Bank Region namely, Upper Nuimi, Lower Nuimi and Illiasa. 
The team for the outreach meetings comprised Alagie Mboge, 2nd vice president of the National Farmers Platform executive committee, Marie Adams, national coordinator, and Alagie Njie, a volunteer at the secretariat.
 Ms Adams led the discussions at the meetings, giving an introduction on the significance of the meetings, its objective, and expected outcomes.
She urged for open and frank discussions on the reasons for the non-functioning of some of the district and regional farmers platforms, and on ways that these platforms could be made effectively operational.
Discussions at the meetings centered on  how the farmers platforms should develop a more sustainable mechanism of holding meetings on a regular basis, regularization of the membership of the  district and regional platforms, leadership issues, issues of representation, information flow within the platforms, fundraising issues and the upcoming National Farmers Platform Congress.   
The meetings also attempted to address governance of the farmers platforms, making reference to the farmers platform regional by-laws. 
In all the meetings, farmers expressed their dissatisfaction with the apparent lack of consistent communication flow between the farmers platform committees at the different levels of the platform, district, regional and national. 
This, it was stated, was caused by the inability of most of the platforms to meet their meeting expenses, which led to a situation of infrequent meetings.
Hence most of the farmers platforms found it more convenient to connect to the national platform rather than the other districts or regional farmers platforms.
This has created some lapses in the communication system of the platform requiring an urgent attention. 
The meetings also provided an opportunity for farmers to discuss around the issues currently affecting them, such as poor harvests, timely access to affordable fertilizer, access to quality seeds, micro- finance, farm implements, marketing of farmers' produce and satisfactory extension services. 
The farmers tasked the National Farmers Platform to take up these issues with the government and other agencies that could help them to provide a solution to the problems.
Read Other Articles In Article (Archive)