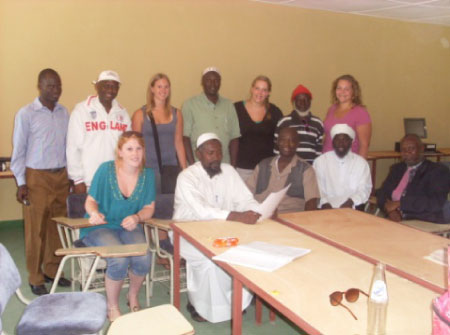 Four students from Fontys Tilburg School in Holland, who are in the country for a five-months assignment on three main areas, recently visited Kotu Junior Secondary School where they had a fruitful discussion with the school administration on matters pertaining to their assignment.
The four students are Claudia Biemans, Ellen Buursma, Lisa Van Hearingen and Kim Bruyns.
According to students, they are in the country on three assignments, which are learning stimulation, child's rights, and management.
"We will offer our assistance to these areas in the form of visit by the students of Fontys Tilburg School in Holland to their Gambian counterparts in The Gambia," the students told Kotu administration.
They also told Kotu administration that every child has right to learn, noting that there will be a visit by the students of Fontys Tilburg in Holland in September this year where they will assist the students of Kotu Junior in the above-mentioned areas.
In responding to their comments, the administrative offices of Kotu Junior Secondary School highlighted some of the main constraints they are facing key among them are the payment of school fees, for which over sixty students are defaulters, as they in arrears in paying school fees since the last academic year to date.
"Those students are very good academically, but they find it difficult to pay their school fees from the last academic year to this academic year, and some of these students are orphans and we can't send them away," the school administration complained.
The administration also informed the four Dutch students that they have an enrollment of over four hundred students occupying ten classrooms, noting that some of the classrooms are either without chairs or the floor has been worn out.
The administration later took the four Dutch students on a conducted tour of the classrooms to see for themselves the constraints Kotu Junior Secondary School is facing.
Read Other Articles In Article (Archive)