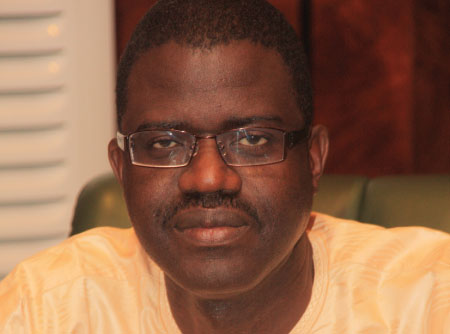 A fresh charge of abuse of office has been pressed against the former Secretary General and Head of the Civil Service, Dr Njogu Bah, at the Banjul Magistrates' Court before Principal Magistrate Hilary Abeke.
Njogu Bah, who is already serving a two-year jail term after he was convicted by the Special Criminal Court on charges of conspiracy and abuse of office, appeared in court from prison but the charge sheet was not read to him due to the absence of a sanction or consent from the Attorney General's Chambers.
The latest charge sheet against him presented in court stated that Dr Njogu Bah, sometime in June 2013 at the State House in Banjul, abused the authority of his office as Secretary General and Head of Civil Service by interfering with the recommendation and posting of Ms Jainaba Jobarteh to the Gambia's Permanent Mission at the United Nations in New York without following the proper procedure of nomination, and thereby committed an offence.
The prosecuting officer, Sergeant Badjie, told the court that they just brought the case for mention.
The trial magistrate then told the court that the accused person was charged with abuse of office, under the criminal procedure code, and that the prosecution under this code shall not institute court proceedings except with the sanction of the Attorney General's Chambers.
"I have searched through the file, and there is no sanction from the AG's Chambers," he said.
"Without the sanction from the AG's Chambers, the court will not know whether the Attorney General intended to institute this action or not and, therefore, the accused person shall not be allowed to enter or take his plea without the sanction," the magistrate continued.
He urged the prosecution to provide the consent to the court in order for the court to actually know whether the AG Chambers was aware of or had interest in the case.
The case was at that juncture adjourned to 13 January 2014, for mention.
Read Other Articles In Article (Archive)