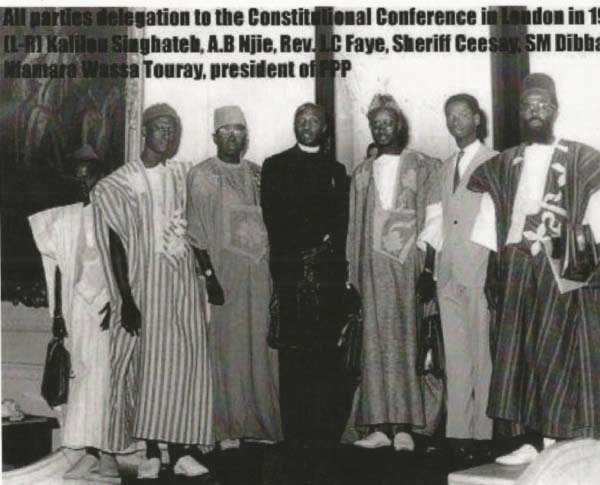 Alhagi Kalilou Foday-Ba Singhateh, a former minister during the First Republic, has spoken about how The Gambia gained Independence.
Born in Badibu Sarba, Alhagi Singhateh was first elected to parliament in 1962 and joined the Gambian delegation that travelled to Marlborough House in London for the Constitutional Conference.
At the meeting they had different opinions, at the beginning, as some were indirectly opposed to independence, but the PPP party stood firm with the belief that The Gambia should have independence immediately, he said, adding that Sir Dawda Kairaba Jawara has produced a blueprint on this issue, and they backed it in London.
"We had Governor General Sir John Paul, who supported us all along," he went on, adding that it was then easy to achieve without much problems.
It was interesting fighting for Gambia's independence, because at the beginning things were tough, he explained, adding that things were not easy at all in the country up to the time they actually got independence.
"We took The Gambia from a very difficult situation," he continued, adding that they were able to form a party that was quite strong, and also inherited a very efficient civil service from the British colonial government at independence.
This really helped them to deal with and solve most of the political problems when they took over, he said, stating that the link between political parties was not bad, as all parties were very close.
"We need to think of all other party members who helped us to achieve our Independence" he went on, recalling the likes of the chiefs of Kombo Faraba, Jama Bojang of Brufut, Wangi Bojang of Sanyang, Saikou Dandanba of Brikama, Modou Musa Njie of Banjul and many others.
"We were about 20 to 30 delegates, but unfortunately as of today we are the only two remaining on the government side [Sir Dawda Kairaba Jawara and Alhagie Kalilou Foday-Ba Singhateh] and M.C. Cham on the opposition side," he said, adding that the rest are no more.
He said the people who participated and not alive today should be remembered and honoured, and their families congratulated for the participation of their loved ones in bringing about this very important occasion of the independence of The Gambia.
The delegation members and representatives that travelled to Marlborough House in London for the Constitutional Congress were Duncan Sandy of the British delegation, Governor General Sir John Warberton Paul; Prime Minister Sir Dawda Kairaba Jawara, Sheriff Saikouba Ceesay, Sheriff Mustapha Dibba, Famara Wasa Touray, Amang Soli Kanyi and Kalilou Foday-Ba Singhateh, all of the PPP party delegation; Pierre Sarr Njie, Ebrima Njie, I.A.S. Burang-John, Kebba Foon and M.C. Cham, all from the opposition; Rachel Palmer of the Civil Society; Momodou Ebrima Jallow of the Workers Union; The Rev John Colley Faye, Alhagie I.M. Garba Jahumpa, and Alhagie Alieu Badara Njie, all of the Alliance; while the meeting was chaired by Lord Milverton.
Read Other Articles In Article (Archive)