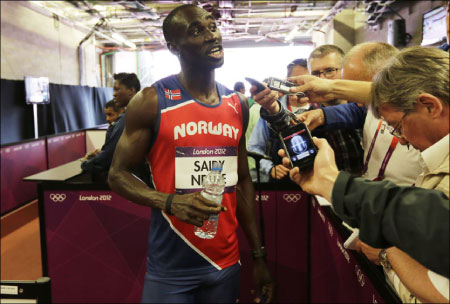 Former Gambian sprinter, who now participates for Norway since the last Olympics in Beijing, has missed out on a place in the semi-finals of the men's 100-meter event following his timing of 10.28 seconds in round one on Saturday.
Jaysuma ran 9.99 seconds in the weeks leading up to the Olympics and hopes were very high of him as Norway's biggest hopes of securing Olympic medal but the former Gambian came out fourth and had to wait to see if his time was among the top three out of the three best runners-up from each of the seven heats.
"I tried to save the most energy. I saw that I was fine in the way," Ndure said at the Media Lounge of the Olympic Stadium after the race and was confident that he was going to reach the next level despite the low timing. "I am convinced, because there are not many who run faster," he added.
Among the Norwegian journalists in the press area at the Olympic Stadium, there was confusion after Ndure had answered questions about the race.
The very happy 28-year-old opened the round of interviews to fool around with a microphone that was placed at the stall, and seemed to bomb certain advancement.
In the heat after Ndure was Justin Gatlin who was completely sovereign and sprinted into 9.97. Both Dariusz Kuc and Nilson Others had more time than Ndure.
American Ryan Bailey equalled his personal best of 9.88 in heat number three.
Also this heat had two of those not qualified for direct more time and thus was the Norwegian out of the 100 meters.
Ndure was the 30th best time in the trial on Saturday.
Read Other Articles In Article (Archive)