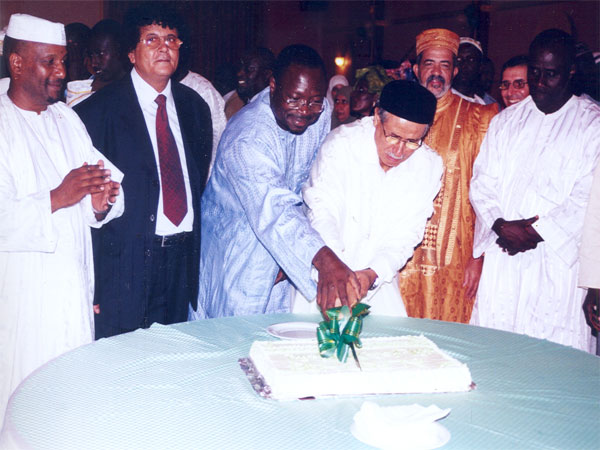 The Honourable Secretary of State for Foreign Affairs, Dr.Omar Alieu Touray, has said that anybody who follows The Gambia's foreign relations under President Jammeh will appreciate the importance that The Gambia has given to its relations with Libya. "Under President Jammeh's leadership, The Gambia championed Libya's cause at the United Nations and other international arenas, especially during The Gambia's membership of the Security Council. As leaders with common purpose, President Jammeh and Brother Gaddafi were among the pioneers of the African Union," he said.   These efforts, he continued, have contributed immensely to the present situation, where Libya is no longer under sanctions and the Africa Union has not only been established, but it also enjoys confidence of the whole world as a continental institution.
The Foreign Affairs Secretary made these remarks on Tuesday at the Jerma Beach Hotel on the occasion of the 39th anniversary of the Fateh Revolution of the Great Libyan Arab Jamahiriya.
"Indeed the venue of the present gathering is a clear testimony to the potential of Gambia-Libya cooperation, and so are the projects next door and the Atlantic Hotel, which has been taken over by the Libyan investors.
The Libyan sponsored mosques in Serre Kunda and Kotu are major religious edifices in the country, and the Sahel-Saharan Bank hold considerable promise for the financial sector of The Gambia."
He observed that, "Libyan investment in the country in the areas of health, education, agriculture and infrastructure shows that the political will our brothers and friends in Libya have shown recently will be translated into concrete action in various sectors of the Gambian economy."
For his part, Dr Ali Muhammad Dukaly, Secretary to the Libyan People's Bureau (ambassador) in Banjul, said that the 1969 Libyan Revolution led by brother Col. Muammar El-Ghadafi was a blessing for the Libya. "He works hard for unity, greatness glory, and the prosperity of Africa when he has lifted the Great Jamahiriya from retrogression to progress and prosperity". Libya, he said, was not at all considered before the revolution, because she was listed among those poor countries receiving aid, but by the Grace of Allah the Revolution, life on the ground changed in all sectors. "And here is the champion leader who supported the liberation movements in Africa to gain their independence and liberty, trying hard again to unite the black continent," he said.
Continental unity, he emphasised, with one passport, army, central bank etc will surely overcome the problems of Africa.
He used the opportunity to hail President Jammeh champion of July 22nd Revolution for changing the lives of Gambians and joining the African struggle to realise prosperity.
The occasion was chaired by Mr. Zeyad communications officer at the Libyan embassy and was characterised by a superb reception.
Several Islamic scholars, imams, senior government officials, national assembly members, diplomats and Libyan community in The Gambia attended the celebration.
Read Other Articles In Article (Archive)