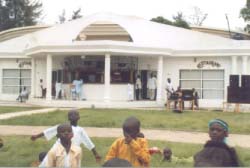 The steam from a pot of good soup is its best advertisement.
Therefore, if the above adage is anything to go by, then in one sense this article is unnecessary. No one in the sunshine capital of Banjul, I believe, needs persuading to visit the Arch 22 restaurant in Banjul. Its charms are known countrywide.
In a chat with The Point Entertainment writer on Wednesday, Mamadi Billy Touray, owner of Billy's Bar and Restaurant, said his restaurant is here to provide launch package that would save business operators and the working public in Banjul the precious time and energy of travelling further afield to get lunch.
Mr Touray says the season has already closed. The 2011/ 2012 season is coming and hopefully this season will be better than that of last year.
According to BillyTouray, Billy's restaurant attracts both local and international visitors.
In supplying food, the restaurant has the service of providing private and special lunch for outsiders. "We also cater for marriage ceremonies as well as naming ceremonies," Billy said.
Dilating on the quality of staff he has, Mr Touray said that more than 90 per cent of his workforce are experienced caterers who have been in the industry for many years.
Touching on his educational background and experience as a restaurant manager, Mamadi Billy told Entertainment that after completing his high school education, he attended the Gambia Hotel School from 1977 to 1980, where he studied food and beverage.
"After completing my course, I then worked with the Atlantic Hotel for ten years where I did series of training," he said. "At the Atlantic Hotel, I was a waiter and a restaurant manager."
Mr Touray said he later he moved to the Kairaba Beach Hotel as a restaurant and operation manager.
"In 1990, I left for Holland where I joined the hotel school and did a series of studies in foods and beverage management," he explained.
"In 1990 I left Holland for the US to do my diploma in the same area of study. After having my diploma in the US, I came back to The Gambia and worked with the Atlantic Hotel as FMB Manager. In 1997, I resigned from the Atlantic Hotel and opened Billy's Bar and Restaurant."
Mr Touray says the Arch 22 restaurant is preparing to come up with a lot of programmes after the Koriteh, for the kids of Banjul.
"We have been doing these programmes for the past three years and are like a tradition now," the experienced hotelier said, calling on all parents to patronise the Arch 22 restaurant "because the money that comes from them goes back to their children".
"Billy's Bar and Restaurant is here for all and sundry," says Mamadi Billy. "It is one-stop eatery that meets your gastronomic needs."
Read Other Articles In Article (Archive)