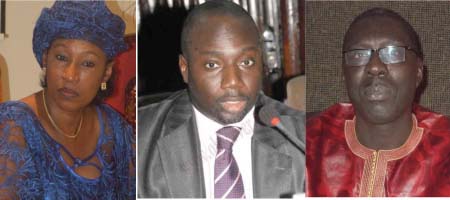 According to official sources, Neneh MacDouall-Gaye, foreign affairs minister; Abdou Jobe, minister of Trade, Regional Integration and Employment; Benjamin Roberts, minister of tourism (who was two days ago appointed as Finance Minister), Pa Ousman Jarju, Minister of Environment, Climate Change, Parks and Wildlife, and Dr Omar Sey, minister of Health, have all resigned.
It should be noted that within two weeks, eight ministers have resigned from the government of President Yahya Jammeh.
Earlier on, Sheriff Bojang, minister of Information, Alieu Jammeh, minister of Youth and Sports, and Abdou Kolley, minister of Finance earlier resigned.
In her resignation letter, MacDouall-Gaye said she is of the conviction that under the prevailing circumstances, "I cannot effectively serve as foreign minister".
Health Minister Omar Sey, who is currently in Geneva, in his letter of resignation addressed to President Jammeh and pasted on his Facebook page, said: "I have the singular honour to tender my formal letter of resignation as Minister of Health and Social Welfare of the Republic of The Gambia.
After due consideration and following disturbing calls and mounting frustration both socially and mentally, I want to honestly state that I cannot continue to function efficiently and effectively as Minister under these circumstances.
"I remain loyal to you and want to thank you for all that you have done for me and my family. I will continue to join you in prayers that Allah shower His Blessings, Mercy and Grace on you, your family and all peace loving Gambians."
Tourism/Finance Minister Benjamin Roberts, in his letter of resignation, said: "As a Gambian guided by the supreme law of the land – the Constitution - I have sought divine guidance and I have convinced myself that our country is indeed at a challenging crossroads that warrant tough and painstaking decisions and largely because of the political impasse we currently find ourselves in, As per the provisions of the Constitution, my mandate as a State Minister ends should the mandate of the President come to an end."
Read Other Articles In Article (Archive)