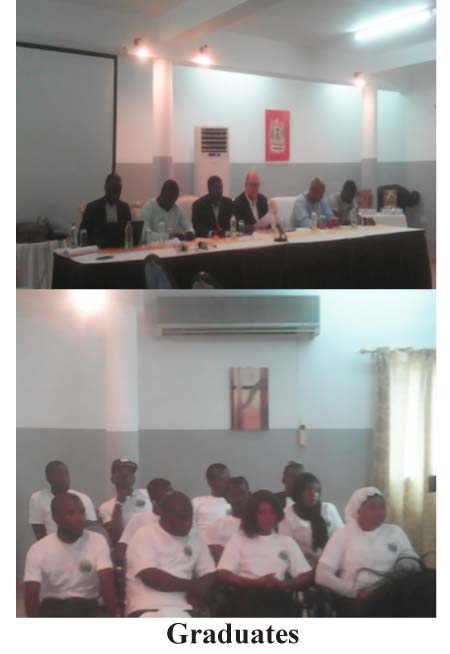 A set of 24 agriculture journalists from commercial and community radio stations recently completed an 18-month agric-journalism training course to empower agriculture through journalism.

The initiative, funded by the Danish Civil Society Organization (CISU) and Danish Food and Agriculture Journalist in collaboration with the Network of Agriculture Communicators (NAC), was held at the Mansea Hotel.
The Minister of Information, Demba A. Jawo, speaking at the ceremony, said the idea of agricultural journalism training was innovative and it was amazing how journalists are specialising.
Radio talks to the people directly in their own languages, he said, adding that it is interactive as listeners could call to make suggestions or ask questions.
He said the training was very important, especially to the profession of journalism.
"We are in the new Gambia and such training will make media houses to survive in the future," he said.
Amadou Jallow, in his opening remarks, said the training was initiated to help farmers on what they do.
He said the graduates were well-trained to serve their nation as agriculture is the backbone of the country's development.
He added that NAC was proud to train the first set of agriculture journalists as they would contribute in moving the agriculture sector forward.
He said those radio journalists were chosen because most of the country's farmers are not educated to read and write, hence they believe that the graduating participants were well-equipped to represent the voice of the farmers in their various communities.
The noble gesture will give the farmers the opportunity to understand and operate to their best.
The lead trainer, Modou S. Joof, said the project was meant to build the journalism skills of the participants to effectively report on agricultural issues that will benefit farmers and policymakers.
He said journalism is the best profession to champion the sharing of timely, accurate and useful information to these groups.
The training started in November 2015 with 26 trainees from 10 community and 3 commercial radio stations and the training was conducted once every month in all clusters.
They were trained on topics including news gathering, headline writing for print, producing news briefs, wrap news, radio magazine, ethics and media laws and were provided with theory, practical experience and assignments.
Finn Asnes, representing DFAJ, said his organization, with the help of CISU, funded the project to empower the farmers through training journalists.
He commended the participants for devoting their time to help in the development of their country through agricultural enlightenment.
The graduation was a new development in the agricultural sector, he added, saying Demark and The Gambia would continue to work for the welfare of journalists.
Read Other Articles In Article (Archive)