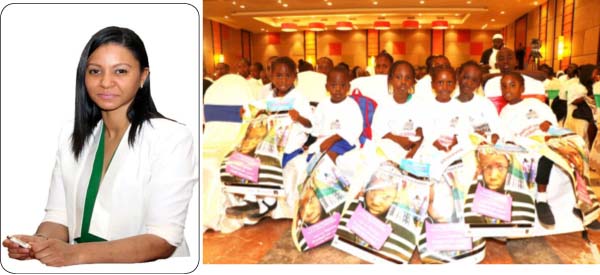 First Lady Zineb Yahya Jammeh on Thursday launched the African Union campaign called End Child Marriage, in The Gambia.
The launching ceremony, held at a hotel in Brufut, was attended by the vice president, paramount chief, speaker of the National Assembly, ministers, and other senior government officials, as well as school children and other stakeholders.
Speaking on the occasion, Mrs Jammeh who is also the chairperson of Operation Save the Children Foundation, said in The Gambia data related to child marriage indicates that 8.6 per cent of girls get married before 15 years old, 46.5 per cent before 18 years.
"This is a worrying data, as child marriage has several harmful effects on the overall well-being of young girls who are not psychologically, emotionally and physically ready to face the challenges of matrimonial life."
The first lady emphasised that child marriage is a social problem, as well as a humanitarian one that affects both sexes, adding that girls are disproportionately affected as they are the majority of the victims.
The overall development of victims of child marriage is compromised making them socially disadvantaged with limited education, no livelihood skills and opportunities for employment, no self-realisation and actualization, as well as exposure to health risks and other complications.
"Eliminating child marriages should be in our priorities, for that will allow young girls to fully develop and contribute to their community and nation," Mrs Jammeh said.
"Our focus on the prospect of a better and brighter future for the girl child is more convincing, and a greater weapon than the challenges pulling us back into the abyss of an age-old and harmful tradition that has no future for the girl-child."
The first lady further pointed out that the society cannot afford to allow child marriage to hold back the girls any longer.
"We can't allow child marriage to prevent our girls from getting an education, knowing that when girls are deprived of education poverty is passed on to the next generation," she said.
As the chairperson of Operation Save the Children Foundation, Mrs Jammeh said the foundation would continue to strengthen the government's efforts aimed at supporting girls, particularly supporting them through free education.
"I will reaffirm my foundation's commitment to strengthen government's effort to the promotion and protection of the rights of children in The Gambia," she added.
The UNICEF resident representative in The Gambia, Sara Beysolow Nyanti, said UNICEF has been actively involved in supporting efforts to accelerate the abandonment of child marriage, at both the national and global levels.
Under the UNICEF-UNFPA joint programme, the agencies support efforts to increase access to education and healthcare services, improve economic support for families, strengthen existing laws and create new comprehensive legislation that ensure the protection of girls from child marriage.
The UN diplomat said the End Child Marriage campaign being led by the first lady of The Gambia "will make a much-needed difference for girls and women in The Gambia."
Read Other Articles In Article (Archive)