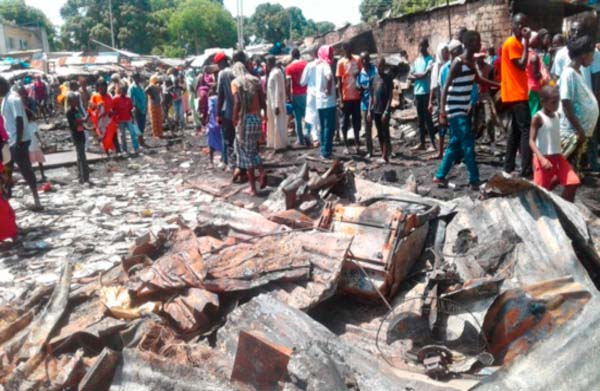 Vendors at the Latrikunda Sabiji Market woke up to the sad news in the early hours of Friday morning that their market had been ravaged by fire.

The fire, which was reported to have started at around 2a.m, lasted for several hours before it was put out by the Fire Rescue Services.
One Musa Ceesay, who was among the people whose stalls were burnt down, said he was devastated that the fire came at a time he had just bought new stock of goods to be put on sale, and "now everything has been lost" to the inferno.
"I cannot tell exactly how much money my goods are worth, but I just know that if I am to approximate, I can say they are worth more than D300,000. I am so shocked, because everything I had has been destroyed by the inferno."
Ousman Sallah, who was also among the victims, expressed distress as, according to him, two of his shops were burnt down by the inferno.
He said all the things, ranging from baby items to ladies wear and jewellery had been burnt to ashes.
Sallah said the fire would not have been worse had there been access routes for the Fire Rescue Service to enter the market area where the inferno occurred.
He added that the cause of the fire still remains a mystery to them, but according to the janitor at the market, the fire was caused by an "electrical misconnection".
"I'm really disturbed by the lack of spacious routes in the market to be able to move properly, and the KMC has not created spacious routes for us. Every month I used to pay D350," Sallah said.
One Abubacaar Jawla also explained the same ordeal as Sallah and other victims, saying there was an earlier fire outbreak some days before the Tobaski, which engulfed at least one shop.
He said, after this incident, the KMC authority would probably do something about the issue to help expand the routes into the market.
Jawla added that even though he lost more than D45,000 worth of goods, he believes that it was destined to happen and nobody would have stopped it.
The only thing left for them now is the faith they have in Allah, as Allah knows best why it happened, he said, adding that they might have something much more than the goods they already lost.
KMC Mayor Yankuba Colley said: "I and the council were shocked about the inferno. Many people are affected and were shocked by the incident."
Mayor Colley added: "We the council and other relevant authorities are making investigations to establish the cause of the fire, and to know the number of stalls affected.
"I am appealing to all benevolent people to come and assist those who lost their goods in the inferno."
Read Other Articles In Article (Archive)