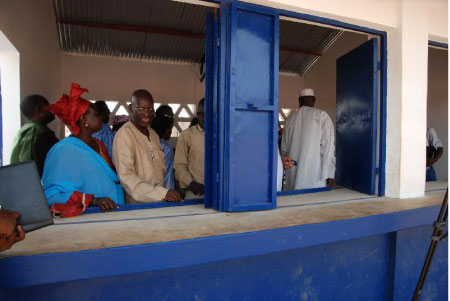 Future In Our Hands, (FIOH) yesterday officially handed over a new school kitchen to the Campama Lower Basic School in Banjul. 
According to officials at the ceremony, the kitchen cost the NGO over D200, 000 to construct.
The opening was presided over by representatives from the Ministry of Basic and Secondary Education (MBoSE), The Association of Non-Governmental Organisations (TANGO), the school management and pupils.
The new kitchen will mean that the school's nine hundred students will now be able to access the World Food Programme (WFP) school feeding programme.
The school's former kitchen did not satisfy the requisite health and safety requirements to make it eligible for the WFP scheme which meant that the students could not enjoy the benefits of receiving regular meals at school.
Speaking at the opening, the school head teacher, Ndey Jetta, said: "We are delighted and grateful to FIOH for building this new kitchen. It is going to greatly help us in our nutritional values."
She said that a healthy nation builds the body of the children and so the FIOH has done a wonderful job for the school which will be part of its history.
"The WFP denied us a feeding programme because our old kitchen did not have a chimney which made it unsafe for people to work in; so this is why we were not able to receive the food. However, now we are appealing to the WFP to come to our aid," she said.
FIOH Country Director Kristina Lundahl said: "It was a very special day four months ago when we at FIOH were told that the students in Campama Lower Basic School were not able to receive food because of the condition of their kitchen."
 Kristina added that to tackle the issue, they put their heads together and decided to do something about it, the result of which "is this brand new state-of-the-art kitchen".
"From today, the kitchen will be the property of Campama Lower Basic School and you will have to take good care of it. However, I am sure that this kitchen will be properly looked after and it will be of benefit to all," she said.
"I am confident that this new facility can make a real difference to the daily lives of the students and will contribute to them in reaching their full potential."
The FIOH is a Swedish-Gambian non-governmental organisation (NGO) that has been working with rights-based rural development organisations through education and capacity building in The Gambia for more than 30 years.
The aim of the organisation is to bring education closer to the rural people and strengthen their capacity to fight poverty.
Read Other Articles In Article (Archive)