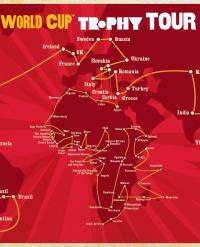 Gambia to host Trophy for the first time
World football's greatest prize is set to embark on its longest ever global tour, with FIFA and the Coca-Cola Company taking the real solid-gold trophy to 86 countries during a 225-day journey that allows thousands of fans to enjoy a rare close-up view of the authentic World Cup Trophy.
The trophy will travel 134,017 kilometres and visit every nation in Africa, including The Gambia to give African fans the once-in-a-lifetime experience of having their picture taken with the trophy.
The Gambia is a member of the Local Organising Committee of the Coca Cola World Cup Trophy Tour and is expected to host the FIFA World Cup Trophy soon.
According to Goal.com , the ceremonial start of the tour was held on Monday as FIFA President Sep Blatter and Coca-Cola Chairman and CEO Muhtar Kent accompanied the trophy on the first steps of its journey. Later in the week, the FIFA World Cup Trophy will be flown from Zurich to its first stop in Cairo, Egypt.
"Through this event, we are really engaging football fans on a global scale, giving them the unique opportunity to have their picture taken with the most prestigious prize in world football and to embrace the excitement surrounding the FIFA World Cup," said Sep Blatter on the FIFA website.
"I am especially thrilled that the FIFA World Cup Trophy Tour takes in all 54 nations in Africa and that this opportunity is thus afforded to all African football fans. None of this would have been possible without a strong and loyal partner, such as Coca-Cola," he stated in his speech.
"Our programmes to support the 2010 FIFA World Cup, such as the Trophy Tour, will leave a lifelong impression on consumers that help to reinforce loyalty and preference for our business and our brands," said Muhtar Kent.
Read Other Articles In Article (Archive)