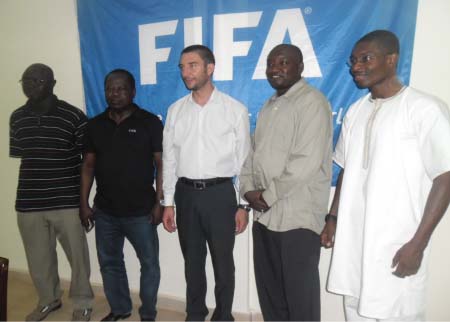 FIFA is set to engage in capacity building programmes on the development of the Gambia Football Fedaration (GFF).
This followed a recent visit by the newly-elected GFF president Mustapha Kebbeh to Zurich after having fruitful discussions with FIFA president Sepp Blater.
This development was revealed yesterday at a press briefing at the GFF House in Kanifing following the FIFA Head of Development Officer Francisco Brusoli's recent check on the GFF on their forward march to developing the Gambian football progress.
"The visit is aimed at working on capacity building programmes in football development in The Gambia," Mr Brusoli said, adding that The Gambia needs FIFA's support more than other countries in the globe.
Following the "heavy" loss during the past eighteen months, the FIFA delegate said FIFA would do all it could to support the member association financially, technically and other ways such as infrastructure as well as help in nurturing the grassroots, especially in the development of women's football.
They have a series of development programmes aimed at tackling every aspect of football development, he added.
They are working on the support of administrative delivery that can carry out the tasks of member associations, he said further, adding that one of their priorities is the FIFA goal project at Yundum and technical centre which are to be implemented following FIFA's approval.
He added that they will also be working on other committees who will be working on other projects to be installed in either of the regions in the country.
GFF executive member Borri Darboe re-enforced the call for support from FIFA, added that they are targeting the youth to develop their skills and become professionals in the future, which he says cannot be done without the supports of FIFA.
He said the Gambian football has suffered during the past eighteen months, but he revealed that the GFF are ready to work with FIFA and CAF in the development of Gambian football.
He assured of engaging FIFA and CAF as they wish to develop football in The Gambia.
Darboe further revealed that the delegates, however, visited the FIFA goal project at Yundum and other areas they are working on developing.
Speakers included the head of Development Officer for West Africa, Sapo J. Khabla, while Bakary B. Baldeh chaired the occasion.
Read Other Articles In Article (Archive)