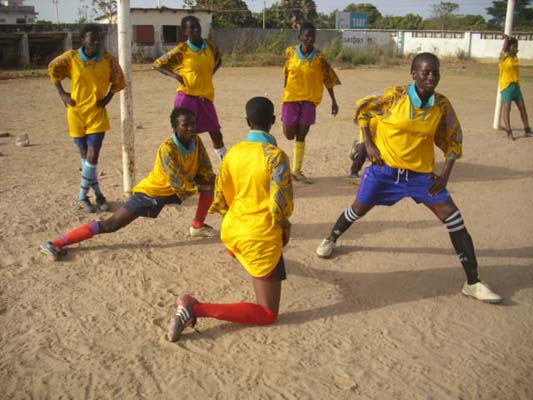 The Gambia National female team will leave the country  on Friday 19th June 2009 to take part in their first ever international friendly game scheduled to take place in Ziguinchor on Sunday 19th of this month with a local selection in Casamance.
This friendly is part of the preparation for the West Africa Football Union Female Championship, otherwise called (WAFU), which will be hosted by the Federal Republic of Nigeria in July 2009.
All the necessary arrangements for the trip according to the GFA President, Seedy MB Kinteh, has been made and the team is expected to travel by land on Friday to take part in the friendly match.
The team is the first-ever Gambian Female side to participate in any continental championship since the establishment of the GFA in 1959.
"We will also arrange for another friendly before the WAFU Championship in July," the GFA boss stated.
The head coach of the team, Buba Jallow, told our reporter that the selection was based on the performance of the players and is of the belief that the Gambian side would put up a respectable performance in the friendly.
Meanwhile the team's proposed friendly game against Guinea Bissau has been called off due to the current political situation in that country.
Meanwhile the 25 selected players are as follows: 1. Tina Badjie, Abuko United - 2. Binta Ngum, Interior - 3. Amie Gaye, Interior - 4. Bintou Bojang, Interior - 5. Anna Nyassi, Armed Forces - 6. Amie Jarju, Company Ten - 7. Sainabou Saine, City Girls - 8. Ndey Biyaye, Abuko United - 9. Mariama Bojang, Red-Scorpions - 10. Fatou Fatty, Red-Scorpions - 11. Maimuna Sawo, Red-Scorpions - 12. Serreh Jatta, Interior - 13. Mama Saidy, Interior - 14. Adama Cham, Interior - 15. Isatou Saidykhan, Interior - 16. Isatou Jallow, Waterman - 17. Veronic Malack, Abuko United - 18. Fatou Gibba, Red-Scorpion - 19. Bintou Colley, Abuko United - 20. Fatou Darboe, Interior - 21. Sainey Sissoho, Abuko United - 22. Fatou K. Jeng, Red-Scorpion - 23. Hella Diko, Kinteh's United - 24. Saraba Colley, Interior - 25. Awa Demba, Interior.
Read Other Articles In Article (Archive)