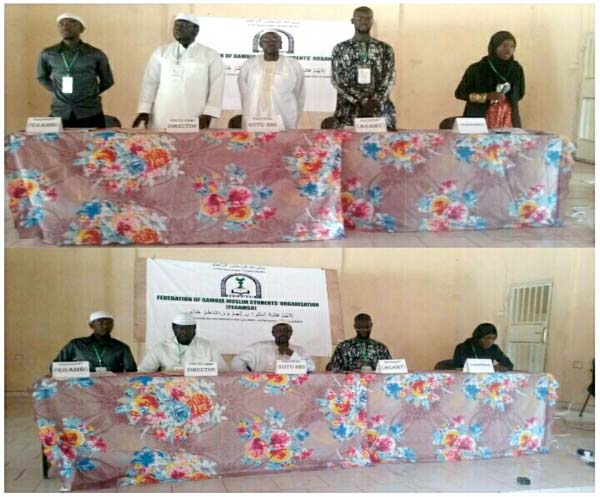 The Federation of Gambia Muslim Students Organisation (FEGAMSO) on Saturday opened its National Islamic Youth Camp at Kotu Senior Secondary School ground.

The weeklong camp under the theme 'Tolerance in the face of conflict of ideas' is chosen to pave a way to peaceful human existence.
Chairperson of the youth camp, Fatou Jobarteh, said the objective of the gathering is to earn the pleasure and mercy of Allah and remind participants to harmonise the unity and love among themselves.
"The camp is to teach students the basic knowledge of their religion as it was taught through generations by the last and final prophet Muhammad (SAW)," she explained.
Yankuba Jarjue, president of FEGAMSO, said the federation has been embarking on series of Islamic awareness activities as part of their contribution to propagate and preserve the knowledge of Islam.
The federation has organised events like inter-school Quranic recitation and competition, cleaning exercise and radio programmes for students with the aim of helping members to attain moral and academic excellence.
Mr Jarjue thanked the parents and teachers of the participants for their partnership in the formulation and implementation of the camp activities.
He also thanked Gamcel, Solid Properties and Gambia National Petroleum Corporation for their financial support and called on more stakeholders and philanthropists to follow suit, support the federation.
Amie Njie, a representative of the Ministry of Higher Education, said the camp is a vital step in the right direction.
"It is very important for the youth to learn from one another and share the best form of manners," she said.
The youth camp director, Omar Bojang, said the weeklong camp of 53 males and 75 females chosen across the country will exposed them to basic religious practices and life skills.
"These will give them the necessary acumen to positively contribute their quota to the socio economic development of our country," Mrs Njie said.
Read Other Articles In Article (Archive)