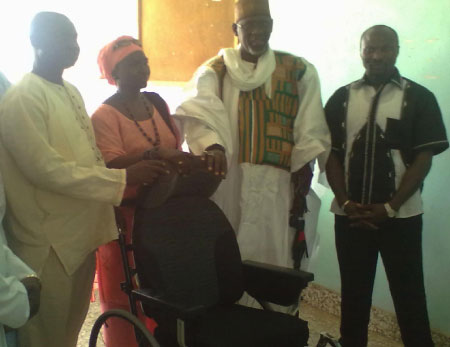 Federation of Ansarudeen in Denmark, in collaboration with MS in Denmark, yesterday donated hospital materials and school furniture to the Royal Victoria Teaching Hospital (RVTH) and Oumul Qura Foundation.
The donated items to the hospital included beds, mattresses, walking aids, wheelchairs, toys, assorted bed sheets, Orthopedic, baby carriers, and other items were presented at the Independence Stadium.
Speaking at the presentation, the president of the Federation of Ansarudeen -The Gambia, Imam Muntaha Faye, said the donation was very important.
"This is not the first time of doing this; we have done such gesture," said Faye, adding that helping the needy has ever been the work of their federation, as they have been supporting the health sector, education and the underprivileged.
Imam Faye calls on the people to come together and support each other, while thanking Samba Goddard, who contributed in making the donation happen.
Fatou Nyabally Ceesay, head of the donation committee at the RVTH, commended the donors for the support.
She called on others to emulate the donors, while assuring all and sundry that the donated items "will reach the beneficiaries".
Samba Goddard, of representative of Federation Ansarudeen in Demark, reaffirmed their continued support to the hospital.  "We are all ambassadors," he remarked.
He called on others not to wait for government to appoint them as ambassadors in order to deliver, while appreciating the support being rendered by MS in Demark.
The government cannot do it all, he says, calling on all and sundry to emulate the federation to support the nation.
Alhagie Mustapha Cham and Alhagie Ousman Jah from Oumul Qura Foundation both expressed delight at the support. They underscored the importance of giving assistance to each other.
Read Other Articles In Article (Archive)