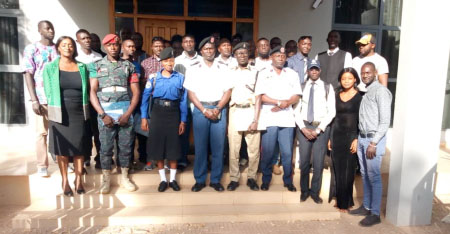 Tulai Jawara-Ceesay, the director of National Agency Against Trafficking In Persons (NAATIP) has said that there is no domestic law that criminalises the smuggling of migrants, saying this gives room for many Gambian girls go to the Middle East to work as a house girls.

She made this remark during a daylong sensitisation workshop for law enforcement officers on Trafficking In Persons at the Ministry of Justice in Banjul on Monday.
She said NAATIP is not mandated to work on migration issues, citing the Ministry of the Interior as the focal point under the Migration Unit Act at the Department of Immigration.
NAATIP director added that trafficking in persons and migration are cross cutting issues and recalling that The Gambia had signed to rectify the Palermo Protocol designed to prevent suppression and punish those involved in the trafficking in persons especially children and women.
She added that the Palermo Protocol has captured issues of smuggling of migrants, trafficking in persons and smuggling of small arms.
Mrs. Jawara Ceesay pointed out that smuggling of migrants through the 'backway' is a crime difficult to stop or punish, arguing that there is no domestic law that criminalises the menace. She was, however, quick to note that there is migration policy and also draft smuggling of migrants legislation, which in the near future will be able to punish the intermediaries.
According to her, NAATIP has investigated cases including four other cases that are ongoing at the court. Among these cases, she said, is sexually exploitation case.
She enlightened that there is Trafficking In Persons Act in which the government is working on in order to prosecute the trafficking suspects.
Mansour Jobe, senior legal officer, National Human Rights Commission (NHRC), said that the training was very important as it will remind officers about their roles and responsibilities in the fight against trafficking in persons which he described as a serious problem in The Gambia.
He pointed that despite the agency's responsibility to combat trafficking in persons, they also need the support from the law enforcement officers because they also play a very vital role in the crusade.
Mr. Jobe echoed that The Gambia is yet to have the smuggling of migrants law in the country, citing it as one of the requirements of the Convention Against Transnational Crimes. "I hope that the government will come up with the legislation that will supplement the effort of trafficking act in order to deal with the issues particularly irregular migration.
Omar Cham, a participant, encouraged his fellow participants to make best use of knowledge and skills gained from the training by putting them into practice at their various workplaces so that issue of trafficking in persons can be a thing of the past in The Gambia.
Read Other Articles In Article (Archive)