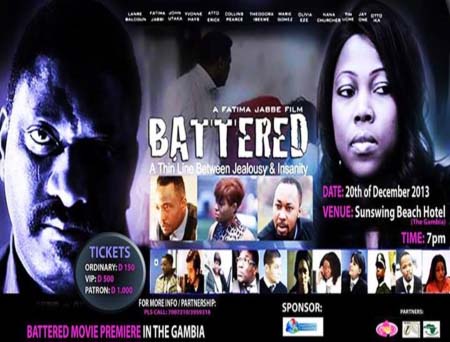 Fatima Jabbe-Bio, a Gambian actress based in the UK, is expected to premiere her film entitled "Battered" in The Gambia today, Friday 20 December 2013 at SunSwing Hotel in Kololi.
'Battered', a film premiered in the UK this year, is about gender-based violence affecting the girl-child.
Fatima told journalists on 14 December 2013 at the Banjul International Airport that 'Battered' aims to raise awareness on gender-based violence in Africa, and issues surrounding domestic violence and its effects on families.
She added that the film also aims to broaden awareness on the hateful degrading act of violence, which prompted her to write a script on domestic violence.
Madam Jabbe-Bio added that 'Battered' features some Gambian actresses and actors, for which she passionately urges Gambians to patronize the film, to eradicate domestic violence.
Fatima, who was voted best female actress at the African Oscars in Washington DC, from a list of 32 nominees in Africa People's Choice Best Actress category September 2013, is expected to take part in MandingMorry Entertainment film called "Sarata", which is a story based on deceit, love betrayal and challenges faced by young women, in an attempt to better their lives.
Sarata, the main character in the movie, is a young beautiful well brought-up village girl in love with a young man Abdou and wants to wait for marriage before she engages in sex.
With the unpredictable situations of life, as an orphan Sarata moves over to the city for better care, but later she becomes very savvy and sexy, living a wild and carefree life, which eventually paves the way for her predicament.
Read Other Articles In Article (Archive)