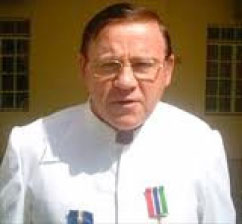 Father Joseph Gough, founder of Young Africans, a first division team in the GFA league, has called on the GFA to apply "fair play for all teams in the league."
He said the draw for the fixtures of the first round of the league is an "unfair treatment" to Young Africans FC by the GFA, who scheduled nine of their games to be played away from their home ground (KG5 in Banjul).
"The draw is totally unfair for us (Young Africans FC)," he remarked, saying the GFA should not favour Real De Banjul because they are league champions by scheduling nine of their first round game at home in Banjul while other Banjul teams like Young Africans and Hawks have only 2 home games at Banjul and nine games away from home.
"You cannot play football on this pitch (Serrekunda East Mini Stadium), it is quite dangerous and not fit to play on," he also said.
"The fixtures are definitely not fair for Young Africans," he went on, saying: "We should at least have half of our games at home and half away.
"We cannot win games in these conditions because the pitch is not fit to play on."
The Young Africans founder said it is unfair that they will have games in their home ground only in the Week 5 and 9 of the first round of the league.
"We are always away from home, which is unfair," he said, noting that they have put an artificial turf at Saint Augustine's and are happy to be playing on it.
Read Other Articles In Article (Archive)