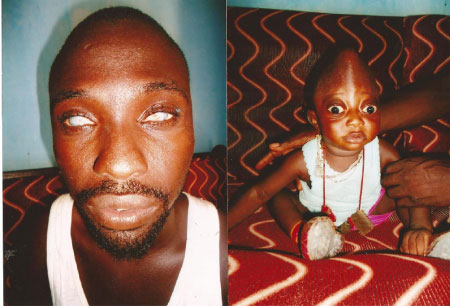 Omar Jobe, a 32-year-old father of Muhammed Jobe, and his nine months old son are in urgent need of overseas treatment, and have appealed for support from government, NGOs, business community and philanthropist to come to their aid.
According to medical reports from Sheik Zayed Regional Eye Care dated 4th April 2012 signed by Dr. Ogbedo Ernest consultant ophthalmologist, and from Royal Victoria Teaching Hospital in Banjul dated 30th October 2012 signed by Dr. Oscar Pineda Chavez, consultant neurologist, Omar Jobe and Muhammed Jobe are suffering from corneal opacity in both eyes and encephalocele disease respectively.
According to Jobe, who walked into our office yesterday, he has loss of vision in both eyes, and this problem started in 2003. Since then he has been seeking treatment in the Gambia and in the sub region (Senegal and Mali) to no avail, thanks to support from his family, relatives and friends.
His son (Muhammed) contracted encephalocele disease one week after birth, and since then the family has been seeking treatment and visited almost all the major hospitals in the country and in Senegal, to no avail.
However, the RVTH medical report recommended that the patients needs to be evaluated by a geneticist laboratory testing and imaging which are not available in the country, thus warranting the patients to seek overseas treatment.
Mr. Jobe is a qualified carpenter, and is the bread winner of  his young family, but could not work now due to his eye problems.
He depends on his skill for the livelihood of his family, but presently has no means of earning his living not to talk of funding himself and his son for overseas treatment.
He appeals for support from all and sundry to facilitate their (Jobe and son) overseas treatment. Anybody who wishes to support the Jobe family can reach him on (00220) 7632001/ 6361340. or via email to thepoint13@yahoo.com.
Read Other Articles In Article (Archive)