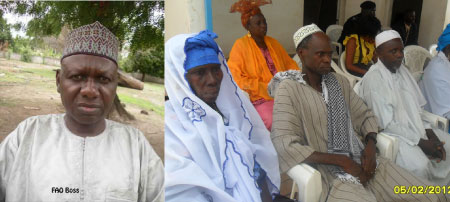 Dr Babagana Ahmadu, FAO representative in The Gambia, yesterday handed over processing equipment to four communities in North Bank and Central Regions at a ceremony held at the FAO headquarters in Fajara.
The gesture was made possible through the Food Security Commercialization of Agriculture (FSCA) project being funded by the Italian Government.
Speaking at the handing-over ceremony, Dr Ahmadu said: "It is my pleasure to welcome you all to this important event of reaching the target of the FSCA, which is to equip this four processing centres with the necessary equipment."
This is a critical element of the project in addressing the need of the communities, he said, adding that he was pleased to have representatives of all the beneficiaries of the four projects from all the processing centres and some members of the communities.
Dr Ahmadu said handing-over of the equipment to the beneficiaries was something very well articulated in the project document.
"We are very pleased that we are coming to this stage successfully and we build the processing centres in all the four communities basically for processing, value addition, packing and, marketing," the FAO boss said.
He said they did all necessary training for the beneficiaries, such as setting up of farmers field schools and organising the communities into corporative and associations as well as developing their capacities to take farming as their business and to build in the business component.
The Minister of Agriculture, Solomon Owens, in receiving the processing equipment from the FAO boss on behalf of the Government and the beneficiaries, said the equipment would advance food security in the country.
"To ensure food security we must take the business approach to agriculture production and agriculture activities and one step in that approach is to enhance value addition of things we produce," Minister Owens stated.
"This new project," the Minister continued, "will strengthen value addition for this produce because without value addition, the quality and the value of the produce that is being marketed will greatly reduce."
He also thanked the Italian Government for funding the project and advised the beneficiaries to take good care of the processing equipment.
Ajaratou Yama Njie from Ngangen Central River Region North gave the vote of thanks on behalf of the beneficiary communities.
Amie Jallow-Jatta, National project coordinator for the FSCA, chaired the ceremony.
The processing equipment and items handed over to the government were 26 tarpaulins, 100 sickle, 8 wheelbarrows, 8 trolleys, 1 coos and maize dehuller, 1 motorised thresher early millet, 4 thermometers, 4 solar dryer, 4 big dustbins, 4 smaller dustbins, 2 long refrigerators, 48kvA generators, 2 rice threshers, 1 hammer mill (maize), 4 gas cookers, 4 plastic bag sealing machines, and 5inch packing materials (plastic bag) to mention a few.
Meanwhile, the objectives of the project are to increase on a sustainable basis agricultural productivity, marketed output and incomes of project beneficiaries farmer-based organizations and small-scale agro-processors resulting in improved livelihoods and food security.
Read Other Articles In Article (Archive)