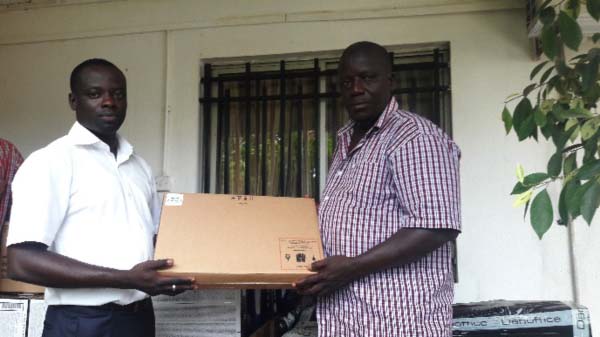 Food and Agriculture Organization of the United Nations has donated a consignment of information technology materials such as five computers (HP Elite Desk 800 G2 TWR) three laptops, five printers, sixty calculators, one photocopier, three GPS (Garmin GPS map 64st) and twenty stapling machines to the Department of Livestock Services at a cost of 17,446.96 U.S dollars equivalent to 775,692 dalasi. The items are earmarked for next month's countrywide livestock census.

The Director General of the department of livestock, Dr. Duto Sainy Fofana, thanked the Food and Agriculture Organization of the United Nations for what he described as a timely intervention.
He said the donation of information technology accessories was a sign of good partnership between the FAO-UN and the Department of Livestock Services under the Ministry of Agriculture. This will certainly go a long way towards addressing the problem of logistics in the forthcoming livestock census.
Speaking shortly after presentation ceremony held at the FAO-UN office in Fajara, the Deputy Director General, Mr. Lamin Saine, said the items donated would greatly ease some of the challenges relating to data collection, processing, storage and management.
Livestock officials are getting ready to cover the length and breadth of the country for what many describe as a painstaking one-month livestock census, scheduled to commence on October 10th2016.
The latest presentation of logistical equipment comes barely one month after the Gambia Government and the FAO signed a 400,000 thousand dollars project (17,252,000.00 dalasi) designed to address the lack of accurate and reliable livestock data in the country.
Read Other Articles In Article (Archive)