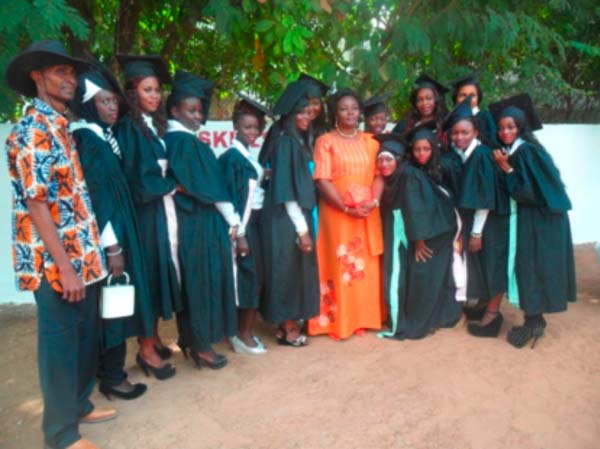 Fajara Skills Development Centre (FSDC) Saturday held its 10th graduation ceremony at the school grounds in Fajara.
The occasion was graced by Ms Ade Mamonyane Lekoetje, UNDP Resident Coordinator to The Gambia, other dignitaries, staff and students of the centre and family members of students.
The sixteen students, who completed their courses successfully, received certificates in cookery, hairdressing, and tailoring.
Speaking on the occasion, Mrs Jean Able-Thomas, proprietress of FSDC, said that over the years the centre had worked in close collaboration with stakeholders in education and development.
The FSDC started operation in October 1999 and "it caters for the well being of the individual" by imparting cognitive and manual skills in students, she said.
Discipline is paramount in grooming students to become confident citizens in their own way, she added.
She said learning does not end within the four corners of the classroom, but it is a vast experience that has taken place as part of life or has been organised as part of programmes.
It then depends on the students to identify and accept the need to learn, she noted.
Mrs Thomas stated that her institute exposes students to social entrepreneurship thus bringing out creativity in them.
She said if the students link their skills with trade, then their self-actualization is ignited, adding that self-awareness creates creativity, which leads to self-sustenance.
This builds to employment thus contributing meaningfully to the socio-economic development of the country, she said, adding that her training centre encourages students to work and focus on knowledge, skills and development.
They should realize that education does not come easy and success only comes from hard work on an individual basis, she added.
She said as young ones, students are most times immature to recognize the links, which are useful in later life, hence appealed to parents to be supportive of their children also at home.
Though there is a global financial crunch, this should not stop them from assisting in getting material to work with, she advised parents and guardians.
Prof. Victor Owhotu, in his remarks, said Technical Vocational and Educational Training (TVET) is what everyone is talking about all over the world and is a long-term solution.
The world has now agreed that the acquisition of skills that are marketable would be an added value to any one possessing such skills.
In The Gambia, the World Bank published a report 3 to 4 years ago stating that 50 per cent of the population is under 20 years and above.
TVET is a lifetime opportunity to fight against poverty, he said, adding that although their skills could be used to look for employment students should know that "the real thing is self-employment".
"You have a mission which is to talk to others who have not thought of seizing the opportunity to do so," he said.
Certificates were given to all the students and those who excelled were given special gifts as a compliment of their efforts.
Fatou Nyang, Madinatou Sarr, and Astou Cham, were each given sewing machines, and other outstanding students received handsome presents. 
EndFragment
Read Other Articles In Article (Archive)