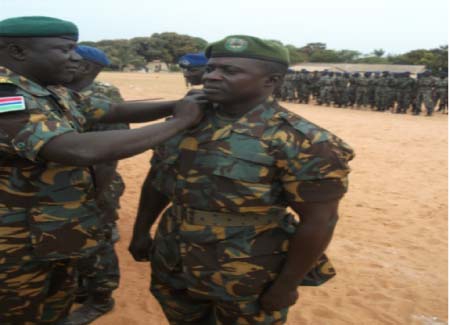 Fajara Military Barracks last Thursday held its annual promotion and decoration ceremony for soldiers of the Republican National Guards (Guards battalion) and the Gambia Armed Forces Sports Company.
During the ceremony, 178 soldiers were promoted to various ranks, of whom five were promoted to Warrant Officer 1, ten to Warrant Officer 2, ten to State Sergeant, 39 to Sergeant, among others.
Speaking on the occasion, Lt. Colonel Babucarr Sanyang, Commanding Officer, Republican National Guards, Fajara Barracks, said The Gambia National Guards was established on 22 July 1994.
It metamorphosed from the defunct Tactical Support Group of The Gambia National Gendarmerie, whose assets and personnel it largely inherited, he said, adding that the Unit's HQ (RNG HQ) is located in Banjul and it is commanded by Major General Sulayman Badgie.
He further noted that the unit had achieved quite a lot in terms of implementing its constitutional mandates and other assigned roles.
 Lt Col Sanyang added that it also actively participated in all GAF level programmes and did so to the best of their ability.
The unit, like any other unit under GAF, does annually benefit from the promotions of soldiers. "These deserving soldiers are being promoted and elevated to various military ranks ranging from WO1 to L/CPL's," he said.
Promotion in The Gambia Armed Forces, he explained, is an event that makes soldiers to ascend from one rank to another by acquiring new responsibilities, he said, adding:  It is in accordance with the terms and conditions of services for officers and soldiers of GAF, who need boost, moral support, and compensation for their hard work and dedication."
He also said the decoration programme is done in recognition of soldiers' hard work, discipline, loyalty and dedication to duty as well as to maintain the structure of the Armed Forces, among others.
He reminded the promoted and decorated men and women that the ranks given to them were not mere decorations, but indeed a great deal of challenge and bigger responsibilities in the service to the nation.
Lt Col Sanyang challenged the promoted soldiers to reflect on the rationale behind their promotion and continue to contribute meaningfully in the maintenance of peace and stability in The Gambia and the Gambia Armed Forces.
The officers, he said, were found to be exemplary in their performance and have a high sense of discipline, commitment to duty, and loyalty to their Commander-in-Chief.
Lt Col Sanyang further advised them to guide and protect those under them by giving them lawful orders and setting better examples for them to follow as well as be role models, especially to those working directly under them.
For his part, Lieutenant M.J. Manneh who serves as the master of ceremonies also congratulated the officers and soldiers for their promotion and achievements. He spoke at length on their relationship with the civilian population.
Read Other Articles In Article (Archive)