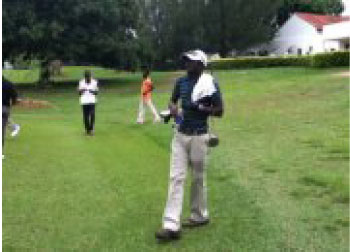 Fa Kebba Drammeh, Gambia's most experienced and number one golfer, has said he is ready to win the Gambia Open and Pro Am Golf competition this time around, organised by the Gambia Golf Association (GGA) and played under the most distinguished chief patronage of the president of the Republic of The Gambia.
The professional golfers are set to play their first round (18 holes) today, Thursday, and the second round (18 holes) tomorrow, Friday, at the Fajara Golf Course with a lot of expectations that one of the Gambian professional golfers lifting the title this time around.
Speaking to reporters on Tuesday at the Fajara Golf Course, Fa Kebba said he is really confident about his game at the moment, expressing confidence that he is very prepared and will win the competition this time around.
Tiger Woods, as he is commonly called, added that "in professional golf, one at a time, you go for a first round and try to adjust in the second round".
"You cannot afford to make mistakes," he said, adding that in the Baby Mariam Jammeh tournament last year they (Gambian professional golfers) made a couple of mistakes, which cost them with foreigners winning the tournament.
"It is the nature of golf, you don't have to be a Gambian to win the Gambia Open," he remarked, saying they have to capitalize on their home advantage because they are used to the golf course.
"I had a really good performance in Nigeria but it could have been much better if I had finished in the top 10 as a first timer but I finished 28 out of 87, which I would say is not too bad," said Drammeh.
He added: "Since then I have been playing really good golf and the Senegalese and Sierra Leoneans are aware of that, so I know they would be sitting on a fragile egg.
 "They have to go out there and play their best golf but if they could not do that, they have no chance."
"We have quite a few Gambians who have been playing so really good golf recently," he said, citing examples of Dodou Kassama, Gibou Jallow and Omar, who turned professionals not long ago.
"I have been working really hard to maintain that as long as professional golf is concerned" he said, adding that he is aware that other professionals are stepping right behind him and that they all know each other's capabilities.
"It is just a matter of trying to focus and take the home advantage," he said, adding that they would not allow what happened last year to repeat itself (a foreigner winning the competition).
"It is a little bit hectic coming from Senegal after a long week," Drammeh, who finished third position, said, adding that they only have a day to prepare.
"We have to try to adjust to our browns because we came from a different turf," but that, they have been around and have been playing on this kind of condition for some time now.
"Golf is a different sport; it is an individual sport whereby if you make a mistake the rest of the field can get back to you," he stated, saying: "You need to be very focused, every single day is different in golf."    
Read Other Articles In Article (Archive)