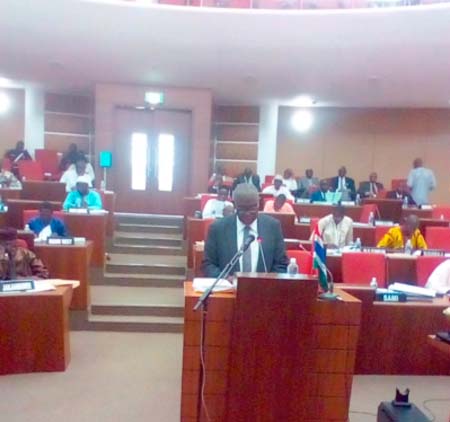 The Minister of Finance and Economic Affairs Amadou Sanneh has said that the government will sell the four presidential planes belonging to former President Yahya Jammeh

In addition to the planes, the government will also sell other assets including the some lands within the tourism development area to generate some investments.
The Finance minister made this statement on Thursday at the National Assembly in Banjul while tabling the draft revised 2017 budget of the government.
"The other measures that we put in place include recapturing of previous diverted non-tax revenue," he said, adding that plans are also underway to vigorously pursue stolen assets of the government through all available channels including the assistance of World Bank Stolen Assets Recovery Unit.
"We have discussion with this unit and they are willing to assist The Gambia to recover identified stolen assets of this country," he said.
The minister of finance said that during the period 2011-2016, average real GDP growth moderated to 24 per cent.
He said the decline in the average real GDP growth was the result of shocks in the two main growth driving sectors of the country: agriculture and tourism.
Since 2011, the Gambia's agricultural sector contribution has consistently declined, from 24 per cent to 21 per cent in 2016.
"The services sector, on the contrary, has seen its contribution increased from 62 per cent in 2011 to 66 per cent in 2016, whilst contribution of industry was marginally down to 14 per cent from 15 per cent in 2015," Minister Sanneh said.
"This signals inadequate transformation and diversification of the country, hence increasing the vulnerabilities of the economy to external shocks in the two mayor sectors of the country."
The minister said the 2017 budget has been revised in order to address the debts and the bad economic situation the new government has inherited.
Sanneh said the government has inherited a ballooning of the public debt from 83.3 per cent to 120 per cent of GDP between 2013 and 2016.
The country has a total of D48 million debt at the end of 2016.
"Second issue is the depletion of the domestic foreign reserves to less than two months import, and thirdly there was abuse of state enterprises such as Gamtel, Social Security, Nawec and others through embezzlement of funds to the tune of D4.7 billion within this last three years," he said.
On the sand mining sector, Finance Minister Sanneh said this is part of the funds diverted by the former president and his allies out of the government budget for their private use.
There was also the use of government funds to purchase 44 pick-ups for use by the APRC party in 2011, he said.
The finance minister said the new government intends to prioritise macro-economic stability with emphasis on addressing the debts situation.
Read Other Articles In Article (Archive)